Taylor Swift Is Spelling Out A Big Clue For Her Next Album With Eras Tour T-Shirts
4 April 2023, 13:29 | Updated: 10 May 2023, 16:37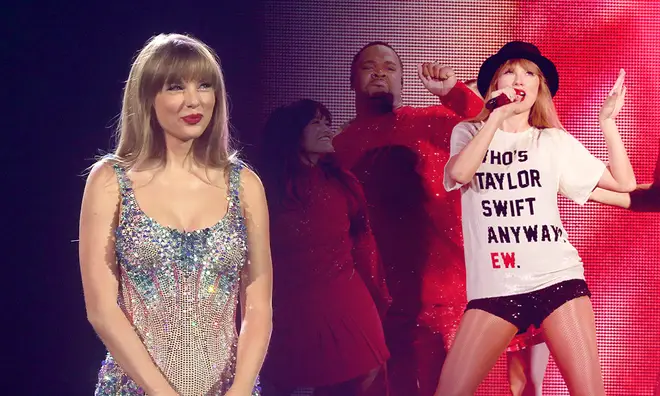 Everyone is convinced that Taylor Swift's Eras Tour t-shirts are spelling out the title of her next re-recorded album.
We all know that Taylor Swift is the queen of leaving her fans Easter eggs, and nobody expected her to stop hinting during tour!
The latest theory among Swifties is that the 'Midnights' songstress has been trying to tell us which re-recorded album she will be releasing next and they think she's doing so via her wardrobe...
Is Taylor Swift Going On Tour In 2023 & Are There UK Dates Yet?
Selena Gomez & Her Little Sister Dressed Up As Taylor Swift For The Eras Tour
Taylor celebrates all 10 of her albums with The Eras Tour and during the 'Red' segment of the show she wears an iconic T-shirt from the '22' music video.
She's worn several iterations of the 2013 tee and each has a different phrase written across it in red and black, eagle-eyed fans think the red letters are spelling out a clue! Taylor really does take the title of 'Mastermind' to the next level...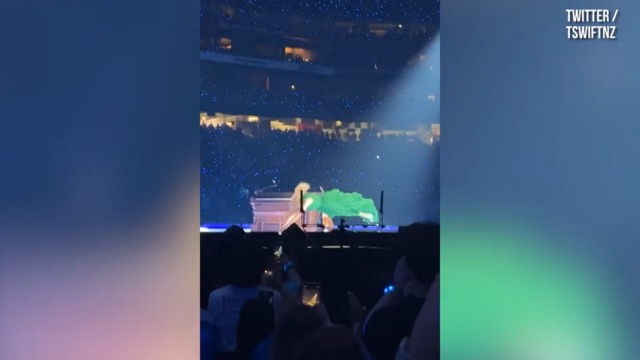 Taylor Swift dives into the stage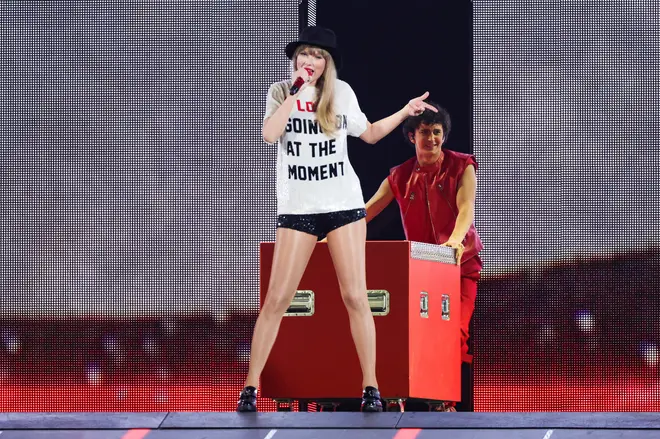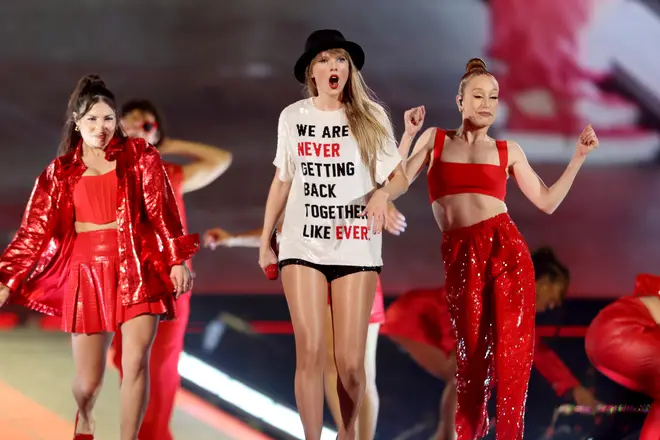 The first t-shirt read, 'A lot going on at the moment,' a spin on the original statement tee she wore back in the day and has since referenced multiple times.
She then sported two more renditions, 'We are never getting back together like ever,' and 'Who's Taylor Swift anyway? Ew.'
Taylor highlighted the following words in red: 'A lot', 'Never', 'Ever', and 'Ew'.
It didn't take long for theories to crop up on Twitter on TikTok which made connections between these letters and the pop star's third studio record, 'Speak Now'.
Fans think that she's been spelling out 'Speak Now (Taylor's Version)', unveiling it as the next re-recording from her first six albums.
The letters seen so far spell out the following: "_ _ E A _ N O W T _ _ L _ R _ V E R _ _ _ _"
However the theories aren't without their holes, some red letters have cropped up more than once meaning there's an excess of V's and E's, so either Taylor is spelling something else out or she's piecing together a sentence.
Some fans are scouring the tour for other clues whereas others are less convinced by the claims; the rumours may be put to rest during the musician's next concert...
Are you convinced by the Eras Tour t-shirt theory?
> Here Are All The Ways You Can Listen To Capital