All The Times Beyoncé And Taylor Swift Have Supported Each Other
4 December 2023, 17:38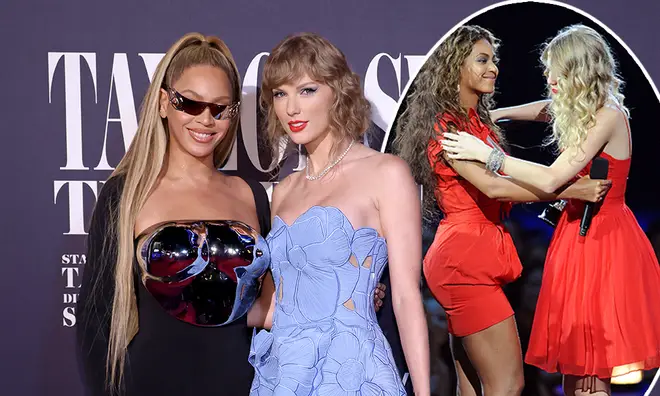 Taylor Swift and Beyoncé are without a doubt the biggest superstars on the planet, and it makes our hearts so happy that they support one another through their incredible careers.
If there's any kind of celebrity interaction that's going to break the internet, it's going to be Beyoncé and Taylor Swift, which is exactly what's happened after Queen Bey attended The Eras Tour Film premiere on Wednesday night.
After Beyoncé let Taylor 'have her moment' at the VMAs all the way back in 2009 after that unexpected interruption, Bey has been a constant support to Tay and they've gone on to become great friends IRL too.
As The Eras Tour film debuted Taylor was joined by none other than Beyoncé herself, they even posed for photos together on the red carpet and posted a cute boomerang in the theatre together.
Taylor called the 'Renaissance' singer a 'guiding light' throughout her career, and said her arrival at the premiere was 'like a fairytale'.
But it's not the first time Beyoncé and Taylor have sung each other's praises, in fact the women have constantly supported one another throughout their careers.
Here's every time Beyoncé and Taylor have showed up for each other.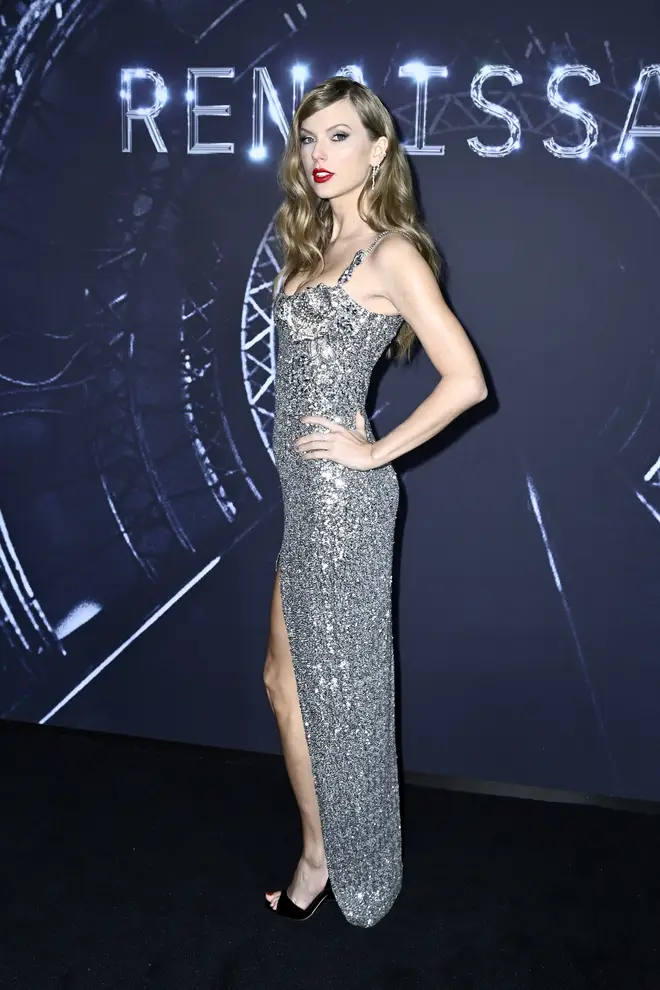 Taylor Swift shows up for Bey at the Renaissance Film premiere in London
Returning the favour after Bey joined Tay for The Eras Tour Film premiere, Taylor showed up in London on 30th November for the UK premiere of Renaissance: A Film by Beyoncé.
The superstars posed for a photo together on the shimmering silver carpet, which Taylor posted on Instagram, and even Taylor's BFF Blake Lively was left in awe of the musical duo, praising the women for showing younger generations the power of aligning rather than dividing and calling Beyoncé's new concert film 'better than you can imagine'.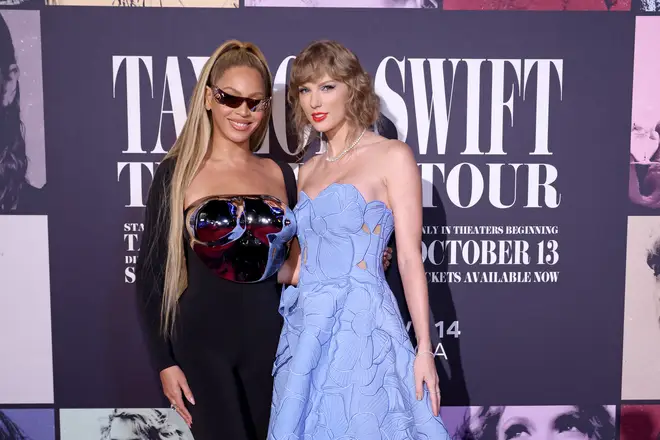 Beyoncé attends Taylor Swift: The Eras Tour Film premiere
Before Taylor's Eras Tour Film came out in cinemas across the world, Taylor held a glamorous premiere to launch the movie and to announce some early showings across the US and Canada. But her bombshells didn't stop there.
At the end of the premiere, Taylor revealed Queen Bey herself had joined the event and even walked the red carpet. Beyoncé has her own concert film for 'Renaissance' coming out in December so fans absolutely loved this supportive moment between the international powerhouses.
Taylor shared a boomerang of them in the cinema together on Instagram, thanking Beyoncé for her life-long influence. She wrote: "I'm so glad I'll never know what my life would've been like without @beyonce's influence. The way she's taught me and every artist out here to break rules and defy industry norms. Her generosity of spirit. Her resilience and versatility. She's been a guiding light throughout my career and the fact that she showed up tonight was like an actual fairytale."
Beyoncé congratulates Taylor on her Grammys record (2021)
Taylor Swift and Beyoncé made history at the 2021 Grammys (it's a recurring theme), with Tay becoming the first woman to win album of the year three times and Beyoncé being the most awarded singer of all time with 28 awards. Since then, she's smashed that record with a total of 32 but in 2021 it was yet another big year for both of the singers, something they celebrated together.
After the event, Beyoncé sent Taylor a handwritten note and a beautiful bunch of flowers to congratulate her big night. The note read: "Congratulations on your Grammy. It was great seeing you on Sunday night. Thank you for always being so supportive. Sending love to you and your family. B."
Tay was as stunned by the heartwarming note as any Bey fan would be, writing: "Woke up to flowers from the queen of grace & greatness @beyonce and suddenly it's the best Friday EVER." She added: "Thank you B and congratulations on your epic achievement Sunday night!!"
Taylor Swift and Beyoncé hang out at the 2016 Grammys
A picture from the 2016 Grammys of Bey and Tay showed just how close the women really are, when they were snapped hugging backstage and clearly laughing about something.
If you haven't seen the picture, take a look because it's the most heartwarming moment.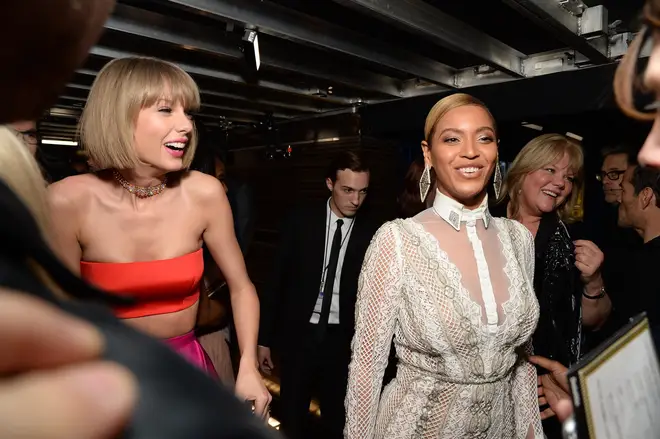 Beyoncé and Jay-Z attend Taylor Swift's birthday party in 2015
That's right. These two are on birthday party terms. In 2015 Beyoncé and Jay Z partied with Taylor and the rest of her celebrity pals to celebrate her 25th birthday – rumour has it they partied until 5am.
Sam Smith, Justin Timberlake, Karlie Kloss and HAIM were just a few of the other celebs on the guest list.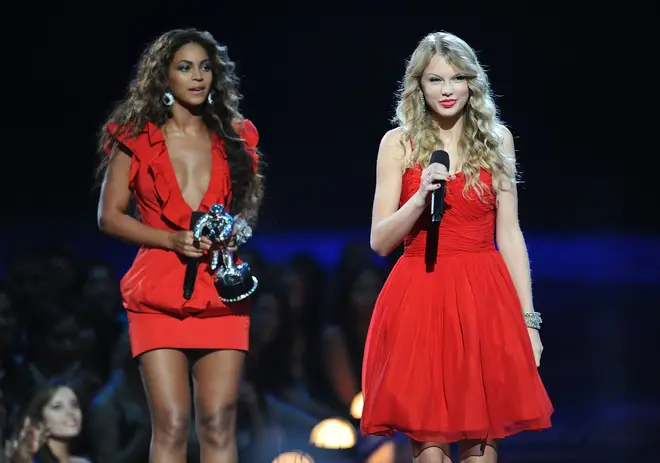 Beyoncé let Taylor have her moment after that VMAs moment with Kanye
A moment for the history books, always-gracious Beyoncé famously let Taylor have her moment after Kanye West stole the mic off the then-rising star at the 2009 VMAs to tell the audience 'Beyoncé had the best video of all time.'
Let's not open that wound up again.
After the awkward moment, Beyoncé brought Taylor back onstage to let her have her moment.
As she accepted her award for Video of the Year for 'Single Ladies' she invited 19-year-old Taylor back on stage. Taylor had won the award for Best Female Video for her song 'You Belong With Me'.
Listen live to Capital, and catch up on any shows you missed, on Global Player.