Summertime Ball 2015: The 10 Live Performances You Can't Stop Watching!
9 June 2015, 17:12 | Updated: 30 March 2016, 13:50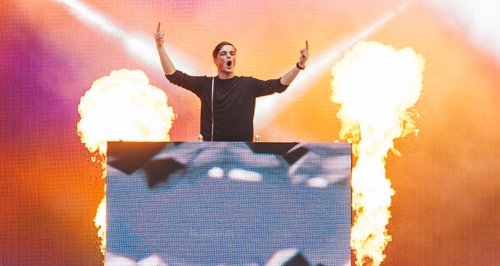 On Saturday June 6th, we put on the HOTTEST event of the summer - and you lot have been watching all the live performances back in your thousands!
We knew that when we announced our most insane line up... EVER back in April, that our Summertime Ball With Vodafone would be BIG!
With performances from One Direction, Little Mix, Ariana Grande and Ne-Yo to name but a few, #CapitalSTB became a worldwide trend and almost broke the Internet with these epic videos.
21 acts performed an impressive 67 tracks and 2 mind-blowing DJ sets - and the view count for all of these massive hits is already in the millions. We've found it impossible to pick our favourite 10, but these are the ones that you lot just can't get enough of!
It's the biggest booty-empowerment anthem of the past year, so it's no surprise that you've been re-watching Meghan Trainor's Summertime Ball debut in your thousands.
We LOVE having Mr Murs at our Balls! He's never disappointed us with his cheeky face and smooth moves - but when he broke down a bit of Bruno Mars in to his #CapitalSTB 2015 set we MELTED!
Another STB virgin, Nick popped his Summertime Ball cherry in 2015 with his massive debut solo single 'Jealous' in front of 80,000 people.
One of the biggest tracks of the summer sounds absolutely AMAZING in the Wembley sunshine - just listen to OMI's smooth vocals and pretend you're on a white sandy beach in the Caribbean... or a stadium in North West London with 80,000 people, both are pretty epic options.
Another artist who's no stranger to our Balls, Ms Ora put on a typically fierce performance of her brand new track with a smoking hot new look.
The latest addition to the #CapitalWeekend line-up made his Summertime Ball debut, and turned Wembley Stadium into the world's biggest rave on June 6th.
We were SO excited to announce that Ms Grande would be joining our most insane line up... EVER - and she did not disappoint!
It's the moment #Mixers EVERYWHERE were waiting for - the first EVER performance of 'Black Magic'! The girls showed off their flawless dance routine to their upcoming single, which has had you re-watching it over and over trying to perfect your moves.
Time to swoon! Harry, Louis, Niall and Liam made their Wembley debut as a four-piece and sent everyone WILD! Hearts were broken, tears were shed and voices were lost during their EPIC opening set.
Getting this American quintet the bill was DEFINITELY 'Worth It'! #5HatCapitalSTB was trending worldwide on Twitter for over 24 hours thanks to the ladies' incredible performance of their latest track - which features an unbelievable dance routine. You go, girls!
Including that awkward moment Rita Ora interrupted our LIVE radio broadcast!