Olly Murs Rocked Wembley With His 'Uptown Funk' Medley - The Troublemaker Is BACK!
6 June 2015, 21:12 | Updated: 6 June 2015, 22:34
He of the tight trousers ALWAYS puts on a great show - and his set at Wembley literally raised the roof!
Olly Murs always gives unmissable performances at the Summertime Ball - and the 'Troublemaker' is officially back - and he brought his live band to rock the stage at Wembley!
Olly performed a six-song set including a medley of his hits, even bringing the gorgeous 'Up' and the classic 'Dance With Me Tonight' (and his ridiculously tight trousers, obvs!) - it wasn't a set to be missed! He even shook his booty at the crowd, and who can say no to that, eh?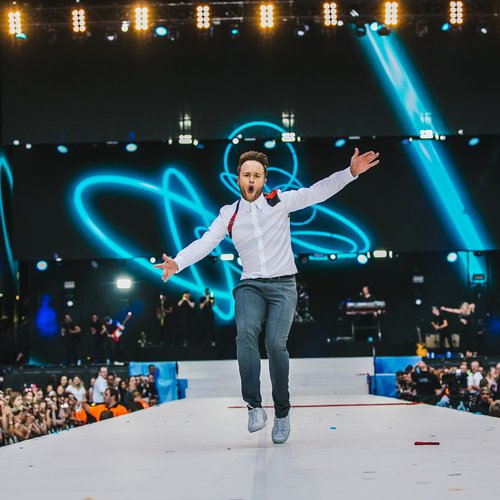 One of the standout moments from his stellar set was his medley of 'Uptown Funk' and 'Oops Upside Your Head' - those snake hips were working overtime! He also threw in another Bruno Mars track by mixing 'Wrapped Up' with 'Treasure' to create something truly magical!
Bounding up and down the catwalk and stage, Olly made sure every fan in the stadium got a good view of his performance - even getting the crowd going in a chorus of "Olly, Olly, Olly. Oi, Oi, Oi!" - this guy has showmanship down to an artform!
Olly Murs Setlist - Summertime Ball 2015
'Troublemaker'
'Up'
'Beautiful To Me'
'Uptown Funk/Oops Upside Your Head'
'Dance With Me Tonight'
'Wrapped Up'
Olly's ALWAYS a popular one at the Summertime Ball, and you guys weren't shy about shouting about it!:
#OllyMurs #CapitalSTB pic.twitter.com/rDpOEUfikh

— Lisa Bailey (@lisa01403) June 6, 2015
Olly Olly Olly Oi Oi Oi!! Loving @ollyofficial #summertimeball pic.twitter.com/T1clSFIUdm

— Ruth Langsford (@RuthieeL) June 6, 2015
Got to say he sure does no how work a crowd... #ollymurs pic.twitter.com/StybjwjXwp

— ricardo martins (@ricardo_herts) June 6, 2015
My friend is ringing me from the summer time ball so I can hear all of @ollyofficial's performance

— Simona(@madformurs96) June 6, 2015