Fifth Harmony Prove They're MORE Than 'Worth It' With Their First #CapitalSTB Performance
6 June 2015, 20:40 | Updated: 8 June 2015, 12:17
The girls clearly loved EVERY minute of their first experience of the #CapitalSTB madness!
The Fifth Harmony girls LOVE to be centre of attention... so it was only fitting we put them RIGHT at the centre of Wembley Stadium for this first ever appearance at one of our events.
If Ally, Normani, Lauren, Camila and Dinah were in ANY way nervous about their first Wembley gig they didn't show it one bit - powering through their new single 'Worth It' with sass, swagger and sexy dance moves.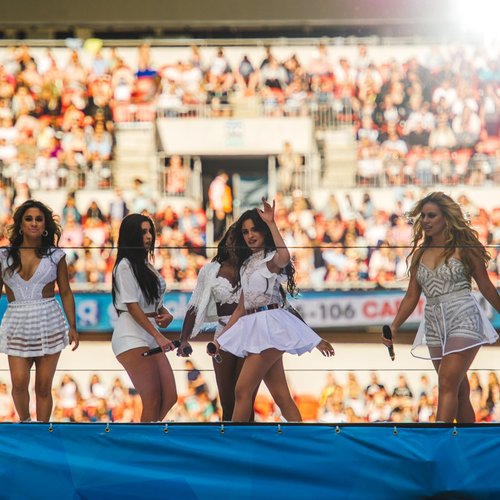 There were screams from the crowd and hair flicks from the girls galore, as they performed their hit song 'Worth It' - you guys asked for them and we provided! Their set was short but sweet - and there were a LOT of #Harmonizers in the crowd at Wembley!
Fifth Harmony Setlist - Summertime Ball 2015
'Worth It'
Fifth Harmony were definitely one of the favourites on Twitter, with #5HAtCapitalSTB
DYING AT FIFTH HARMONY pic.twitter.com/YpKiZxgmzv

— MEETING 5H TODAY. (@kingl0vato) June 6, 2015
REMEMBER EVERYTHING WE DID TO GET HERE!YOU'LL BE GREAT! I LOVE YOU GIRLS @FifthHarmony #5HatCapitalSTB

— giulia (@jaureguisfool) June 6, 2015
THE PRINCESSES ARE ON @FifthHarmony #5HatCapitalSTB #CapitalSTB

— Cristina Cobos (@cristina_cobos) June 6, 2015
SOPHIE JUST PHONED ME WHEN FIFTH HARMONY WERE SINGING WORH IT THANK YOU OMFG @SophHamblett_UJ

— emmaaa (@shelleysmilesx) June 6, 2015