Jingle Bell Ball 2012: Recap Of Day Two Performances
9 December 2012, 22:46 | Updated: 30 March 2016, 13:50
Girls Aloud, Pink, The Wanted and Calvin Harris were among the stellar line-up of performers.
The second and final day of the Capital FM Jingle Bell Ball 2012 has come to an end, with some of the world's biggest artists and more than 16,000 fans descending on London's 02 Arena.
The Wanted, Calvin Harris and Girls Aloud were just some of the acts who took to the stage on day two of the event, which finished with a high-energy set from Pink.
Kicking off the second day of the action, Girls Aloud played a selection of their biggest hits over the past 10 years, as well as their latest singles, 'Something New' and 'Beautiful Cause You Love Me'.
Cheryl took to the stage for a second night in a row after performing a solo set on night one, screaming: "It feels so good to be here, London are you excited to have us back?"
Girls Aloud open the Jingle Bell Ball 2012: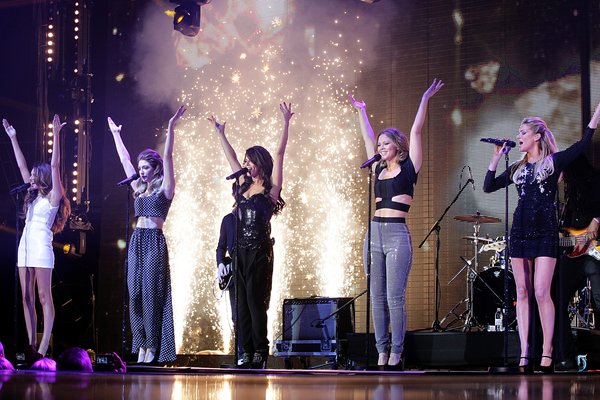 Girls Aloud Kick Off Day Two Of Jingle Bell Ball With Explosive Performance
Hot on the heels of the UK girl group, Conor Maynard brought a healthy dose of cheeky charm to the O2 with hit song 'Can't Say No'.
The Brighton star also surprised the 16,000-strong crowd with a cover of Swedish House Mafia's 'Don't You Worry Child', as well as performing his latest single 'Turn Around', leading the crowd in a chant of "I just want to party like a Mayniac".
Conor Maynard Covers Swedish House Mafia At Capital's Jingle Bell Ball 2012
British rapper Example was up next, performing his recent hits 'Stay Awake' and 'Say Nothing'.
Making a return to the Capital FM event, wearing a casual combo of hi-top trainers, dark blue jeans and a green camouflage print top, he urged the crowd to 'grab hold' of the person next to them for the final chorus of 'Watch The Sun Come Up'.
Example Tells London To "Have It" As He Plays Day Two Of The Jingle Bell Ball 2012
Fresh from her performance on X Factor last night, Rita Ora wowed the crowds with her recent Big Top 40 number one single, 'R.I.P.', moving through her biggest hits including 'Shine Ya Light' and 'Hot Right Now', before bringing her set to a close with her summer anthem, 'How We Do (Party And BS)'.
She changed from her stunning red carpet outfit - a yellow cutaway dress - into a casual jacket, trousers, and hi-top trainers to perform on stage.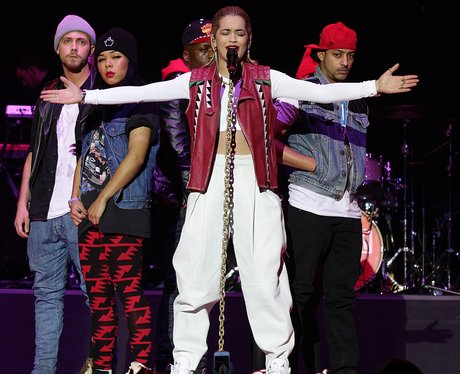 Next, Calvin Harris fired-up the crowd with his 2011 smash, 'Bounce', before bringing Example back to the stage for a performance of 'We'll Be Coming Back'.
After treating the audience to some of his biggest hits including 'Sweet Nothing' and 'Let's Go', he surprised the crowd by duetting with special guest Tinie Tempah, singing 'Drinkin' From The Bottle'.
"London, I want to see your hands," he shouted, closing his eyes and lifting his arms to the sky as the crowd jumped up and down to his DJ set.
Calvin Harris Joined By Tinie Tempah At Jingle Bell Ball 2012
Boy band The Wanted brought their biggest tunes to the table, starting their set with a bang with their latest single 'I Found You'.
"It's nice to be home back in England," said singer Max to the screaming fans. "I know we've been away for a while but you can't beat being here. And I mean that a lot."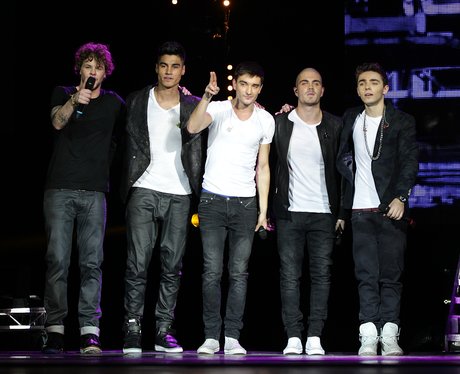 Pop superstar Pink brought the day's events to a close with her high-energy set, bringing some of her greatest songs from the last 10 years to the screaming crowd at the O2.
Setting up a party atmosphere with 'Raise Your Glass', she performed a range of her best tracks from 'Just Like a Pill' to her latest single, 'Try', and finished the set on a high, quite literally, as she was suspended above the crowd for her final song, 'So What'.
Pink Closes Jingle Bell Ball 2012 By Flying Across The O2 Arena
Keep your eyes and ears on the ball by visiting our special Jingle Bell Ball area as we come live from this year's event across the weekend.
You can see all the latest news, pictures, interviews and watch this year's performances on Capitalfm.com - follow the action in real time on our live blog.

Join the conversation about this year's Jingle Bell Ball by following @CapitalOfficial on Twitter with the hashtag #CapitalJBB and liking us on Facebook.