Jingle Bell Ball 2014: 10 GIFs That'll Make You Want To Do It ALL Over Again
9 December 2014, 16:45 | Updated: 30 March 2016, 13:50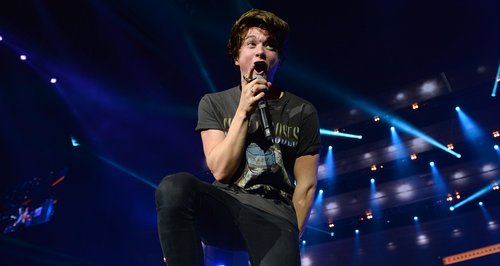 From OneRepublic jumping off a piano and Union J stuffing marshmallows in their mouths, it all happened at the Capital Jingle Bell Ball 2014.
There were so many moments over the weekend that we can't help but watch over and over again, so we've put them ALL in one easy to find place for you to watch the Capital Jingle Bell Ball best bits - ON LOOP. Check out the bounce on Brad's hair and surprise on Ed Sheeran's face.
Brad's bouncy blow dry! Because he's worth it!
The Vamps Brad just couldn't control his locks as they bounced all over the JBB stage whilst the boys performed 'Oh Cecilia' to a crowd at the O2.
Jessie's head banging and air guitar in her performance of 'Do It Like A Dude'
We like to think we look just as cool performing along to Jessie in front of our bedroom mirror.
HIIIII MICHAEL!!
Ashton, Luke and Calum wave hi to missing 5SOS band mate Michael, who had to miss the Jingle Bell Ball after losing his passport, silly sausage.
Taylor's fierce fist pump during 'I Knew You Were Trouble'
Despite having laryngitis Taylor Swift still gave a kick ass performance when she took to the JBB stage.
Ed Sheeran's face when Dave Berry and Lisa Snowdon presented him with a plaque for 1.1 BILLION radio imprints!
We just want to hug him! Well done Ed.
Mark, Howard and Gary have us watching their performance of 'Pray' on repeat just to learn this dance!
We nearly forgot just what good dancers Take That are. Looking suave fellas.
Ryan Tedder being so excited performing 'Love Runs Out' he jumps off his piano...
That's a health and safety risk right there. Good job the OneRepublic front man landed on his feet.
JJ bites off more than he can chew in Capital presenter Roman Kemp's Chubby Bunny Challenge
Ok, stop now JJ before you hurt yourself.
Danny hops off the stage and performs amongst the crowd
We love an unexpected twist and Danny O'Donoghue certainly didn't disappoint when he jumped into the JBB crowd.
Capital's Roman Kemp performs with Rixton and it's actually rather good
Roman was up to all sorts of mischief backstage including auditioning to become the fifth member of Rixton, #hilair!
You May Also Like…