Lost Your AAA Pass? 9 Backstage Moments From The Jingle Bell Ball You May Have Missed
27 October 2015, 14:58 | Updated: 30 March 2016, 13:50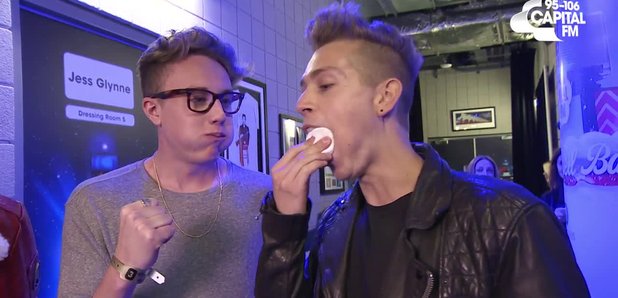 We're just days away from revealing EVERYTHING about this year's #CapitalJBB, but what did you miss at last year's show?
Whether you were screaming your heart out in London's O2 Arena, following the action here at CapitalFM.com or watching everything live on Capital TV, last year's Jingle Bell Ball was spectacular!
But at such a huge event, there's so much going on behind the scenes that you may have missed.
From boy bands vomming up marshmallows to interview bombing and all the things in between, here's everything you need to see from backstage at the Jingle Bell Ball 2014.
Roman's Chubby Bunny Challenge
It's an absolute CLASSIC and the concept is so simple, just stuff your mouth full of marshmallows and say the words "Chubby Bunny". Roaming reporter Roman Kemp took the challenge to the next level, with EXTREME-sized marshmallows for the UK's biggest boy bands to have a go.
5SOS' Michael Receives A Message Of "Support" From His Bandmates
Oh Mikey, what are you like? After losing his passport SOMEWHERE in America, Michael Clifford couldn't fly out to join Ashton, Luke and Calum to perform at the Jingle Bell Ball. After safely landing in London, the three remaining Aussie rockers sent their bandmate a special message...
The Script Reveal A Special Talent...
So the Irish trio are very talented musicians, we know that much, but what about their other abilities? After spending some time with Capital's backstage reporter, Roman Kemp, the lads flaunted their skills at pulling off flawless accents.
Fuse ODG Gives Us A Dance Lesson
Q: Who had the most energy at last year's #CapitalJBB? A: It's FUUUUUUUSE! The African star even had energy left over after his set to teach Roman his epic 'Azonto' dance - and now you know the moves too!
Sam Smith Reveals His Secrets
No, we're not talking about his latest boyfriend or spilling some juicy gossip, but he DID reveal what the perfect vocal warm-up is - just follow Sam's advice and who knows, you might be recording the next Bond theme!
Taylor Swift Tries The After Eight Challenge
The concept is simple, get an After Eight mint from your forehead to your mouth without using your hands. What could go wrong?
A New Super-Group Was Formed!
Not content with just playing the music on Capital, Roman Kemp decided he wanted to make the music, too! The DJ teamed up with the lads from Rixton to create a new super-group, but don't worry, it won't be hitting our playlist any time soon...
Ryan Tedder Perfects Interview-Bombing
What happens when someone interrupts your perfect photo? Photobombing, obvs. Well what do you call it when you're interviewing Olly Murs and OneRepublic's Ryan Tedder just strolls on in? Interview-bombing, of course!
Ed Gets Just What He Deserves...
Ooh, that sounds a little sinister, doesn't it? Don't worry though, we just thought that after a phenomenal year, Ed deserved a little recognition for all his hard work.