Jingle Bell Ball 2018: Frequently Asked Questions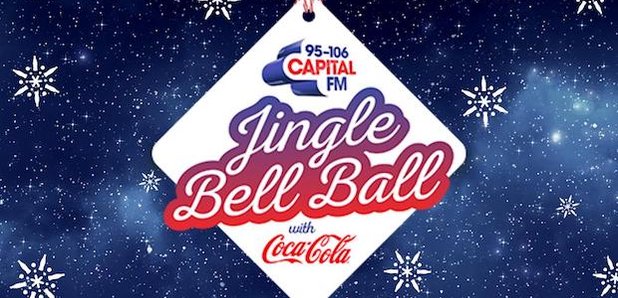 When is this year's show? Who's on the Jingle Bell Ball line-up? Can you watch it on TV? How do I get tickets? We've got all of your questions sorted right here!
Q. When and where is this year's Jingle Bell Ball?
-->We're taking over The O2 on Saturday 8th and Sunday 9th December 2018.-->
Q: How do I get Capital Jingle Bell Ball tickets?
Tickets have now SOLD OUT... so your only way in is to win! Make sure you're listening to Capital for your chance to win tickets... good luck!
Q: Is there a pre-sale for tickets?
Pre-sale tickets have also sold out.
Q: When will I get my Jingle Bell Ball tickets?
Tickets will be sent out by our ticket providers. Please contact AXS or StubHub if you have any queries regarding your order.
Q: How can I win tickets?
Oh it's quite simple tbh, listen to Capital FM!
Q: Who is on the Jingle Bell Ball lineup this year?
The line-up for Capital's Jingle Bell Ball with Coca-Cola 2018 is:
Saturday 8th December:
David Guetta
Rita Ora
Ellie Goulding
Liam Payne
Anne-Marie
Olly Murs
Jonas Blue
Rak-Su
James Arthur
Halsey
Loud Luxury
Sunday 9th December:
Little Mix
Jason Derulo
Jess Glynne
Zara Larsson
Clean Bandit
Cheryl
Sigala
Years & Years
Jax Jones
Mabel
The artist and billed performer line up may be subject to change at any time without notice.
Q: What is this year's running order?
What's the matter, don't like surprises?
Q: Can you watch Jingle Bell Ball on TV?
You can't watch it on any TV channels but you CAN live stream the event and see all your favourite artists there. To live stream click here
Q: What's this year's hashtag?
Follow all the action, and send us your selfies, using #CapitalJBB on Twitter, Instagram and Facebook.
Q: When does the show start?
Doors open at 16:30 on both days of the show. The show is scheduled to start at 18:00 and finish at roughly 22:00.
These timings are subject to change.
Q: How can I watch the Jingle Bell Ball if I don't have tickets?
We'll be broadcasting live from the O2 all weekend including backstage goss and interviews with the stars, so make sure you're listening to Capital. We'll also be streaming the live performances right here on Capitalfm.com as well as on Twitter @CapitalOfficial, on the all new Global Player and on the Capital app too.
Follow @CapitalOfficial and #CapitalJBB on Twitter, Facebook, Instagram and Snapchat and keep it Capital for all the behind the scenes action and backstage goss.
If you have a smart speaker, you can listen to the Ball by saying "play Capital" and you can also catch up Sky One for the first time EVER - they'll be bringing you all the highlights from the #CapitalJBB on Thursday 20th and Friday 21st December and over the Christmas period.
Q: Can I get something to eat and drink at The O2?
Of course! For details on the bars and restaurants at The O2 check out the details on the official site. Outside food and drink is not permitted inside the arena bowl.
Q: Is there a dress code for the Jingle Bell Ball?
Dress to PAAAAARRRTTY!
Q: Are there age restrictions in place for attending Jingle Bell Ball at The O2 Arena?
For The O2 Arena, Children under 15 must be accompanied by an adult aged 18 or over. If you look under 25, you will be asked for ID to purchase alcohol.
Q: Can I take my camera along?
The O2 states in its terms and conditions that "the use of unauthorised cameras, video or sound recording equipment is prohibited and such items may be confiscated". We think you'll be fine to take along your personal camera or camera phone, but professional camera equipment will not be allowed into the venue. If in doubt, contact The O2 directly.
Long story short: Your phone is fine, but leave the big camera with the massive lens at home.
Q: Can I bring signs along to declare my love for ______?
Erm, YES! We LOVE seeing how creative you can get with your props! Just try not to block the view of whoever's sat around you - they wanna see your fave too, not the back of your sign!
Q: What security measures are in place at Capital's Jingle Bell Ball?

We and The O2 take the safety and security of all our fans and visitors very seriously. If you're coming to the arena, please ensure you arrive in plenty of time to pass through their enhanced security checks.
The O2's security and guest relations team are there for your safety. Please cooperate fully with all security checks and support these vital members of their team as they carry out important work to keep us all safe and sound.
Fore more information on security at The O2 please go here.
Q: Can I bring a bag with me?

The O2 advise you to not bring a bag if possible. They will not allow large bags into the venue but you will be permitted to take small bags and handbags in with you. The O2 class small bags as no larger than 35cm x 40cm x 19cm or standard handbags.
If you have to bring a large bag with you, you can leave it at the bag storage facility in Car park 1, at a cost of £10 per bag. All bags will be searched and screened before being accepted into the bag storage facility.
Bag storage closes 30 minutes after the end of the event. They won't hold your items overnight, so you must pick them up before the facility closes.


Q: How do I get to, and get home, from the venue?
For up-to-the-minute travel information on getting to the Jingle Bell Ball check out Capital's Travel and Traffic updates
The easiest way to get to The O2 is via London Underground. North Greenwich station (Zone 2 and Zone 3, Jubilee Line) is located a short walk from the main entrance. Trains from Stratford and Central London serve the station every few minutes.
On the Saturday, Tubes run a 24-hour service, roughly every 10 minutes.
On the Sunday, the last train to depart from North Greenwich to Central London is at 23:45 and the last train to Stratford is at 00:16
Thames Clippers serve North Greenwich Pier, for access to The O2 via the River Thames. Get more info at www.thamesclippers.com
Car parking must be booked in advance at www.theo2.co.uk
The O2 is fully accessible. Customers with specific requirements/access queries should contact The O2 directly. Detail is available at www.theo2.co.uk/visit-us/accessibility or by calling 020 8463 3359.