Shawn Mendes - 'Stitches' (Live At The Summertime Ball 2017)
11 June 2017, 18:46
It's the track that made his name as a pop star – Shawn brought 'Stitches' to the #CapitalSTB!
Shawn Mendes sure knows how to work a crowd – the 18-year-old pop star got all 80,000 of you singing along to 'Stitches' at Capital's Summertime Ball with Vodafone!
Shawn has gone from a Vine cover star to international pop royalty in less than five years, and he could never have imagined way back then that he would be performing his own material to a packed-out Wembley Stadium!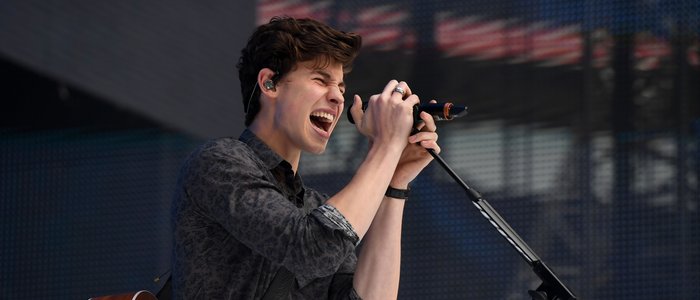 A firm chart favourite, there were a lot of Shawn Mendes fans in the audience today – and you guys certainly made yourselves known!
You can watch all of Shawn's performances right here and make sure you're keeping it Capital for all the MASSIVE performances from the #CapitalSTB!
Shawn Mendes – Summertime Ball 2017 Setlist
There's Nothing Holdin' Me Back
Stitches
Ruin
Mercy
Castle On The Hill/Treat You Better
Shawn Mendes 'Stitches' Lyrics
I thought that I've been hurt before
But no one's ever left me quite this sore
Your words cut deeper than a knife
Now I need someone to breathe me back to life
Got a feeling that I'm going under
But I know that I'll make it out alive
If I quit calling you my lover
Move on
You watch me bleed until I can't breathe
I'm shaking falling onto my knees
And now that I'm without your kisses
I'll be needing stitches
I'm tripping over myself
I'm aching begging you to come help
And now that I'm without your kisses
I'll be needing stitches
Just like a moth drawn to a flame
Oh you lured me in I couldn't sense the pain
Your bitter heart cold to the touch
Now I'm gonna reap what I sew
I'm left seeing red on my own
Got a feeling that I'm going under
But I know that I'll make it out alive
If I quit calling you my lover
Move on
You watch me bleed until I can't breathe
I'm shaking falling onto my knees
And now that I'm without your kisses
I'll be needing stitches
I'm tripping over myself
I'm aching begging you to come help
And now that I'm without your kisses
I'll be needing stitches
Needle and the thread
Gotta get you out of my head
Needle and the thread
Gonna wind up dead
Needle and the thread
Gotta get you out of my head
Needle and the thread
Gonna wind up dead
Needle and the thread
Gotta get you out of my head
Needle and the thread
Gonna wind up dead
Needle and the thread
Gotta get you out of my head get you out of my head
You watch me bleed until I can't breathe
I'm shaking falling onto my knees
And now that I'm without your kisses
I'll be needing stitches
I'm tripping over myself
I'm aching begging you to come help
And now that I'm without your kisses
I'll be needing stitches
And now that I'm without your kisses
I'll be needing stitches
And now that I'm without your kisses
I'll be needing stitches