WATCH: Shawn Mendes Was Grilled On His Virginity & Actually Answered The Questions Like It Was NBD
24 November 2017, 14:46
They were bold questions... and he answered them like a pro.
It's not every day a world famous singer gets grilled on the most private details of their sex life. However yesterday, Shawn Mendes faced exactly that when he joined Jay Jay, Dom & Randell's radio show in New Zealand.
> There's Nothing Holdin' You Back From Downloading Our App Like RN!
The trio quizzed the 'Stitches' star on the oldest person he's ever had sex with, when he lost his virginity as well as if he man-scapes at all.
In true pro style, Shawn answered the prying questions calmly and confidently however a few fans weren't too pleased at how intrusive the interview actually was.
the interview I just watched was awfully uncomfortable to watch, why do people have such interests in someone's sex life ?? please just get a grip. Sorry you had to go through that, I love you @ShawnMendes

— lucy (@kiwimendesx) November 24, 2017
@ShawnMendes i'm so sorry you had to go through that interview. quit putting his private life on the line, he's a human too, give him some privacy. would you want people asking you questions abt your sex life on the air?

— david zhogan (@davidzhogan) November 24, 2017
> WATCH: A Fan Filmed Shawn Mendes In The Gym & We Couldn't Relate More If We Tried
To his credit, Shawn owns the room and actually reveals how he lost his virginity at 16 and that the oldest partner he's ever slept with is a 25 year old.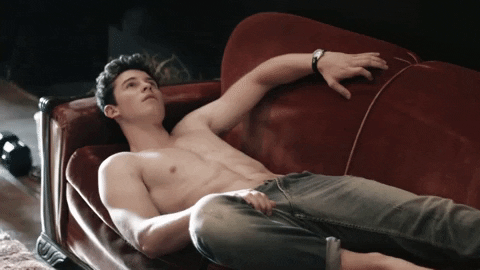 via: GIPHY

Shawn's tour is currently in full flow before his last tour date of the year takes place in Tokyo, Japan. Who knows what else people are going to ask him by the end of 2017!
Shawn Mendes' gym routine is so relatable you've probably already done it a bunch of times.