This Shawn Mendes Fan's Mum Perfectly Summed Up Why We Stan Him
6 September 2018, 16:50 | Updated: 6 September 2018, 16:54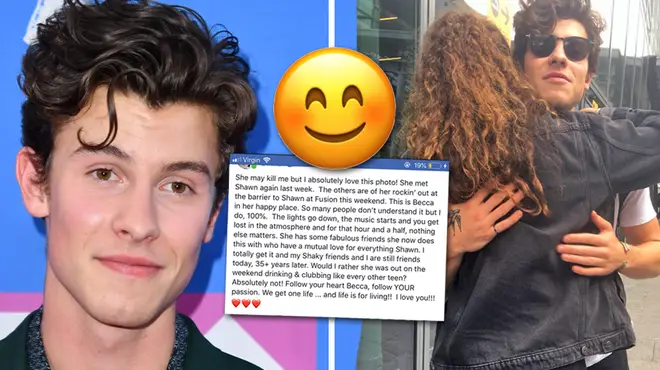 Shawn Mendes fans are seriously loyal and one fan's mum has shared the perfect explanation of what it means to stan the 'Nervous' star.
Shawn Mendes stans are an amazing bunch and their support for the 20 year old Canadian star is absolutely unwavering and one fan's mum has perfectly summed up what being a stan is all about.
> Shawn Mendes & The Vamps Reunited Backstage At Fusion Festival
Having watched Shawn Mendes perform a stunning headline set at Liverpool's Fusion Festival recently, super fan Becca's mum Rachel took to Facebook to write a heartwarming post about why she's proud of her daughter's stan life.
Writing on Facebook, Rachel said, 'She may kill me but I absolutely love this photo! She met Shawn again last week. The others are of her rockin' out at the barrier to Shawn at Fusion this weekend. This is Becca in her happy place'.
She went on to add, 'So many people don't understand it but I do, 100%. The lights go down, the music starts and you get lost in the atmosphere for that hour and a half, nothing else matters. She has some fabulous friends she now does this with who have a mutual love for everything Shawn.'
'Would I rather she was out on the weekend drinking and clubbing like every other teen? Absolutely not! Follow your heart Becca, follow YOUR passion. We get one life ... and life is for living.'
It turns out that Rachel was in fact in the crowd at Fusion too, and Becca told us, "She camped out with us from 2am and was at the barrier all day until she felt ill. She loves the way Shawn connects with his fans and how he always has time for us."
After Becca shared her mum's Facebook post on Twitter, fellow Shawn Mendes fans everywhere reacted in an equally beatiful way. Whether you shed a tear or found a beaming smile creeping onto your face whilst reading it, Rachel's post just gets you in the feels.
Your mum is the sweetest, please thank her making sure me and my friends were okay at fusion 😊 you're very lucky to have a Mum like that! 🙌🏻❤️ x x

— Vicky // 🌹 (@idkmendess_) September 4, 2018
your mum was so sweet at fusion!!! have to show this to my mum so she understands it!

— Marisa misses shawn (@honestxmarisa) September 4, 2018
i love becca so much her and her mum always make me laugh and she is one of the kindest most gorgeous people i have ever met and i can't wait to see her again soon ☹️

— caitlyn ♡ (@liketobecait) September 6, 2018
My heart this is the cutest thing ever Becca

— Micaela (@ruinperfectly) September 4, 2018
Nottingham based Becca had gone to Liverpool's Fusion Festival with a group of friends who'd travelled from as far as London, Manchester and even Ireland and had all met on Twitter through their love of Shawn Mendes.
Revealing her dedication to stanning the 'In My Blood' star, Becca told us, "I've recently seen Shawn at Capital's Summertime Ball in June, at a pop-up he had in London and we met him when he arrived at the airport last week. He's on tour next year and I've got tickets to see him in London and Leeds, but I'll be getting more."
So far Shawn hasn't publicly acknowledged Rachel's powerful message, but we're sure he'd be proud of both Becca and her mum. You guys are awesome!
> Download Our Free App For All The Latest Shawn Mendes News!