This Dad Had A Genius Way of Getting Shawn Mendes' Autograph For His Daughter
8 October 2018, 12:25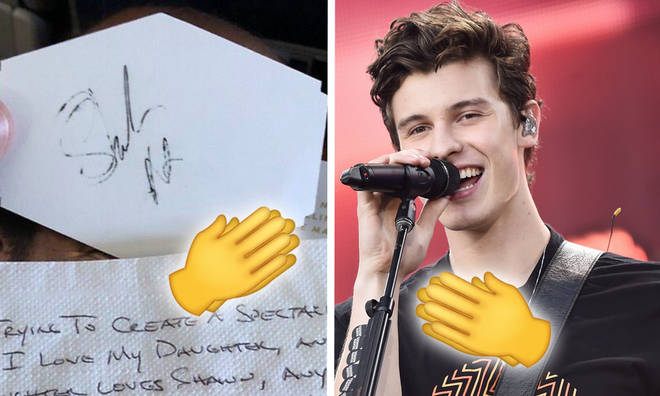 Shawn Mendes' autograph is hot property these days, but this dad has figured out a way to nab that ink in the most subtle of ways.
Shawn Mendes fans are always after just a little piece of the man himself. In fact, some fans even goes as far as tattooing a voice memo from the Canadian singer on their arm (pretty genius tbf). So, when a dad spotted Shawn on the same flight as him, he just knew he had to do something about it.
> Shawn Mendes & Camila Cabello Need To Stop Apologising For Being Themselves
The fan's dad wrote an incredibly sweet note to Shawn's team on a napkin, asking for him to sign a sticker and of course the 'Stitches' star came through...
Instead of going up to Shawn on the airplane, a dad wrote a note on a napkin to get a signature for his daughter and gave it to someone on his team (I'm assuming) and Shawn signed it! This is so cute! the dad even wrote his seat number on the note so they can send it back lol 💗 pic.twitter.com/1gNur6r43j

— Shawn Mendes Updates (@TrackingSM) October 8, 2018
Realising how approaching him could cause a scene, the dad wrote, "Hi, not trying to create a spectacle, but, I love my daughter and my loves Shawn, any chance I could ask you to have him sign a sticker I purchased for her in Nashville? Her name is Sadie. If not, I understand but it would truly make her day, thanks, Matthew, 18C."
> Download our app to keep up to date with all your Shawn Mendes news.
He even put the seat number on the note! Too cute.
Shawn Mendes' relationship with his fans is always one thing that truly stands out when discussing the young singer. It was only last week that he playfully trolled his fanbase when it came to not understanding their slang.