Little Mix - 'Wings' (Live At The Jingle Bell Ball 2016)
3 December 2016, 23:54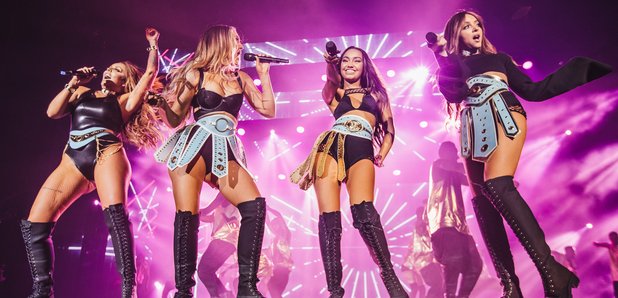 They had to bring out one of the classics – the UK's biggest girl band performed one of their first hit songs at London's O2 Arena!
It's an oldy but a goody - Little Mix performed one of their classics during their latest turn on the Jingle Bell Ball stage, much to the delight of the 16,000-strong audience at the O2!
Proving exactly why these girls have been the biggest UK girl band of the past few years, Jesy, Leigh Anne, Perrie and Jade revisited one of their old favourite tracks - and boy, did they SMASH it!
If you weren't lucky enough to be in the stadium to catch their set live - those tickets sell out hella fast! - you can catch up on their brilliant set using the video above. It's definitely not one to be missed!
With a string of hits under their belt and their new album 'Glory Days' hitting the number one spot, Little Mix's star is still on the ascendant – and you know there are even bigger things to come from these ladies!
Little Mix – Jingle Bell Ball 2016 Setlist
'Salute'
'Hair'
'Wings'
'Move'
'Secret Love Song' featuring Nathan Sykes
'Black Magic'
'Shout Out To My Ex'
Little Mix – 'Wings' Lyrics:
Mama told me not to waste my life
She said spread your wings my little butterfly
Don't let what they say keep you up at night
And if they give you shhhh
Then they can walk on by
My feet, feet can't touch the ground
And I can't hear a sound
But you just keep on running up your mouth yeah
Walk, walk on over there
'Cause I'm too fly to care, oh yeah
Your words don't mean a thing
I'm not listening
Keep talking, all I know is
Mama told me not to waste my life,
She said spread your wings my little butterfly
Don't let what they say keep you up at night
And they can't detain you
'Cause wings are made to fly
And we don't let nobody bring us down
No matter what you say it won't hurt me
Don't matter if I fall from the sky
These wings are made to fly
Huh huh
I'm firing up on that runway
I know we're gonna get there someday
But we don't need no ready steady go, no
Talk, talk turns into air
And I don't even care, oh yeah
Your words don't mean a thing
I'm not listening
Keep talking, all I know is
Mama told me not to waste my life,
She said spread your wings my little butterfly
Don't let what they say keep you up at night,
And they can't detain you
'Cause wings are made to fly
And we don't let nobody bring us down
No matter what you say it won't hurt me
Don't matter if I fall from the sky
These wings are made to fly
I don't need no one saying hey, hey, hey, hey
I don't hear no one saying hey, hey, hey, hey, hey, hey, hey, hey
You better keep on walking
I don't wanna hear your talking, boy'd
You better keep on walking
I don't wanna hear your talking, boy'd
Your words don't mean a thing
I'm not listening
They're just like water off my wings
Mama told me not to waste my life
She said spread your wings my little butterfly
Don't let what they say keep you up at night
And they can't detain you
'Cause wings are made to fly
And we don't let nobody bring us down
No matter what you say it won't hurt me
Don't matter if I fall from the sky
These wings are made to fly
And we don't let nobody bring us down
No matter what you say it won't hurt me
Don't matter if I fall from the sky
These wings are made to fly