Little Mix - 'Shout Out To My Ex' (Live At The Summertime Ball)
16 June 2017, 15:37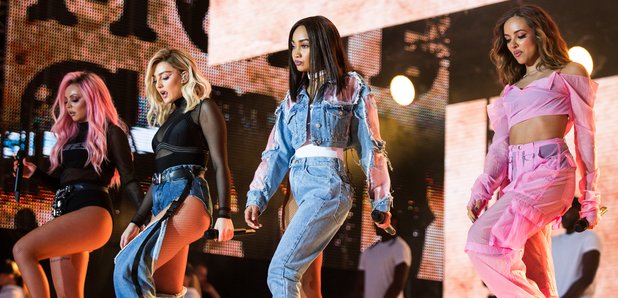 Little Mix closed the Summertime Ball with one of their biggest hits, 'Shout Out To My Ex' to huge cheers from the 80,000-strong crowd.
It's one of their most iconic hits and it went straight to the Big Top 40 number one spot – so what better track for Little Mix to close the whole of Capital's Summertime Ball with Vodafone on than 'Shout Out To My Ex'?!
They're easily the biggest girl band in the world right now, and Perrie, Jesy, Jade and Leigh-Anne made sure the crowds were dancing right up until the very last second of the Ball, finishing a fantastic day on a huge high.
These ladies are seriously talented and there couldn't have been a better closing act for this year's party – you know the good vibes always flow when Little Mix are around!
Click play on the video above to check out their performance, and keep it Capital for all the performance videos from the Ball – it was the best year yet!
Little Mix – Summertime Ball 2017 Setlist
Touch
No More Sad Songs
Wings
Hair (feat. Sean Paul)
Black Magic
Power
Shout Out To My Ex
Little Mix 'Shout Out To My Ex' Lyrics
This is a shout out to my ex
Heard he in love with some other chick
Yeah yeah, that hurt me, I'll admit
Forget that boy, I'm over it
I hope she gettin' better sex
Hope she ain't fakin' it like I did, babe
Took four long years to call it quits
Forget that boy, I'm over it
Guess I should say thank you
For the hate you's and the tattoos
Oh baby, I'm cool by the way
Ain't sure I loved you anyway
Go ahead, babe, I'mma live my life, my life, yeah
Shout out to my ex, you're really quite the man
You made my heart break and that made me who I am
Here's to my ex, hey, look at me now, well, I
I'm all the way up, I swear you'll never bring me down
Shout out to my ex, you're really quite the man
You made my heart break and that made me who I am
Here's to my ex, hey, look at me now, well, I
I'm all the way up, I swear you'll never, you'll never bring me down
Oh, I deleted all your pics
Then blocked your number from my phone
Yeah yeah, you took all you could get
But you ain't getting this love no more
'Cause now I'm living so legit (so legit)
Even though you broke my heart in two, baby
But I snapped right back, I'm so brand new, baby (I'm so brand new)
Boy, read my lips, I'm over you, over you
Guess I should say thank you
For the hate you's and the tattoos
Oh baby, I'm cool by the way
Ain't sure I loved you anyway
Go ahead, babe, I'mma live my life, my life, yeah
Shout out to my ex, you're really quite the man
You made my heart break and that made me who I am
Here's to my ex, hey, look at me now, well, I
I'm all the way up, I swear you'll never bring me down
Shout out to my ex, you're really quite the man (You're really quite the man)
You made my heart break and that made me who I am
Here's to my ex, hey, look at me now, well, I
I'm all the way up, I swear you'll never, you'll never bring me down
You'll never bring me down
Shout out to my ex, you're really quite the man
You made my heart break and that made me who I am
Here's to my ex, hey, look at me now, well, I'm
All the way up, I swear you'll never, you'll never bring me down
Shout out to my ex, you're really quite the man (You're quite the man)
You made my heart break and that made me who I am
Here's to my ex, hey, look at me now, well, I
I'm all the way up, I swear you'll never bring me down (You'll never bring me down)
Shout out to my ex, you're really quite the man
You made my heart break and that made me who I am
Here's to my ex, hey, look at me now, well, I (Baby just look at me now)
I'm all the way up, I swear you'll never, you'll never bring me down
You'll never bring me down