"I Nearly Had A Breakdown" Little Mix Reveal The Truth About The Pressures Of Life On Tour
27 November 2017, 12:18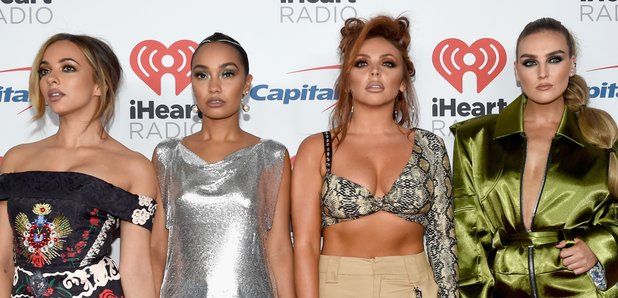 It's not easy being on a pop star's schedule.
Little Mix are one of the world's biggest girl bands but maintaining your spot at the top doesn't come easy – the girls have revealed how tough it is being constantly on tour.
Jesy Nelson revealed that she almost had a "breakdown" after arriving home after months of constantly touring and having to pack a bag and hit the road again, explaining, "I was looking at all of my suitcases on my floor and burst out crying. I was like 'I can't do this'.
"Literally I nearly had a breakdown like, 'I need help. This is too much. I just want to be home'."
Jesy also admitted that the girls feel pressure not to have too much time off from working in case people "forget about you", and this is something that is backed up by the director of their recent Glory Days documentary, Adam Goodall.
He told Billboard, "Often when bands put out bits of content, everything is wonderful and lovely and happy, and there are moments in this film where you'll see the pressure of all of the hard work and the lack of sleep get to them.
"There are a couple moments – there's a bit where Jade actually breaks down – that you'll see for the first time that side of the girls, and I think fans are going to really enjoy that."
Jesy also admitted this is the first time since she's been in the limelight that she's felt confident enough to post bikini pictures without feeling the need to retouch the images before putting them on social media.
She explained, "The other day I took a picture of myself in a bikini which I've never done before, and for the first time ever I didn't want to retouch it. I thought 'No, f**k it – this is me, and if you don't like it, then sod you!'"
Fans have also been rallying around the girls, saying that they need a break in their hectic schedules in order to relax and not burn out.
You watched @LittleMix documentary and pls.. pls girls! Don't end up like the 1D boys, totally stressed out, mental problems and insecurities and forced by their bodies to take a break. Look after you and take your time. You don't HAVE TO bring an album and a tour per year

— Just like Julia (@Juibelly_) November 26, 2017
mixers please continue tweeting #GiveLittleMixARest we all know little mix deserves a break

— fangirllvl100 (@minatozakixm) November 16, 2017
@LittleMix Tomorrow is the last Show and you Girls don't even know how incredibly proud we are of youA year full of hard work is behind you enjoy your break and come to restYou girls deserves the World and much more&We will always Support you We Love you so soo much#Legends pic.twitter.com/oVZBhWBIfC

— Sαɴdy (@priiiincess9) November 25, 2017
The Glory Days Tour will be ending tonight in London. Please enjoy your much needed break, girls @LittleMix! pic.twitter.com/ikJeJuMDLA

— Jade Thirlwall PH (@JadeAmeliaPH) November 26, 2017
I love little mix so much, and I'm already missing them, but I'm also very happy that they have a break coming

— Shamara (@queenjadethr) November 25, 2017
my highlight is you's getting the break you deserve

— ً (@dangerousmixers) November 25, 2017
these girls have been through so much. i am beyond proud of the biggest girl band in the world. Please whenever you have the time.. rest! You deserve the longest break u can get, thank you for inspiring me @LittleMix #littlemix pic.twitter.com/PYX3iMT2c2

— neve (@neve_barker1) November 26, 2017
I don't want to see Little Mix do anything next year! They deserve the whole of 2018 to themselves to do whatever they want to do and take a break. I'd rather get LM5 in late 2019 if it means they get a year to rest. 3 tours in one year is not normal, they're being over worked

— #ReadyForAG4 (@AriMileyCamGabi) November 26, 2017
Little mix have done 3 tours in 10 months and have basically been touring since xfactor, they need a break, it's killing their voices

— lea (@yikesLeeaaa) November 19, 2017
you're more than ready for a break and we all wish it for yall

— Matea (@Kocka_) November 26, 2017
They might be the biggest band around, but even Little Mix need a break sometimes – here's hoping they will get a chance to chill over Xmas… they deserve it!