15 Memes Only A True Mixer Would Understand
17 October 2017, 15:21 | Updated: 18 October 2017, 10:30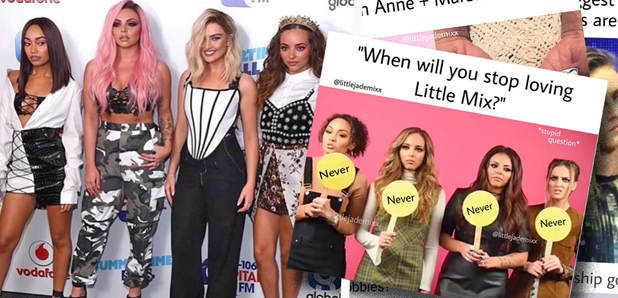 Just a touch of these memes is enough to take you off of your feet all week...
Let's be honest - not a day goes by where we don't listen to Little Mix and think about how lucky we are to have those four incredible queens in our lives.
we know there are plenty of Mixers out there who know how we feel, so we've put together a list of memes that only you TRUE Mixers would really understand...
> Fans Are Losing All Chill After Both Little Mix & 5H Confirm They're Ready To Collaborate
1. YAAASS QUEENS SLAY!
2. There's a Jade for every emotion...
3. Just imagine!
4. There's only ever one answer.
5. OMG the throwback feels rn...
6. Leigh Anne + Everything tbh.
7. Dreaming about our four queens...
8. Totally innocent.
9. Do these people even exist?
10. Fall back fool...
11. Perrie knows...
12. If you don't know about 'Down & Dirty', are you even a Mixer tho?
13. 100% us.
14. Yep.
15. Bops on bops on bops!
16. Bye fake fans...
17. We totally sang this in our heads...
18. #LM4Life
> Download Our Fancy New App For More Great Little Mix Chat!
Whils you're here, check out what happened when Little Mix took on our accent challenge recently...