Fifth Harmony Are Totally Up For A Little Mix Collaboration & Now We're Just Waiting On A Release Date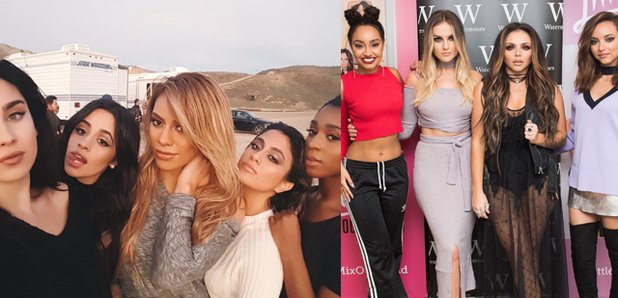 They also defended the Little Mix ladies over the criticism about their 'provocative' outfits.
Let's just take a moment to think about how epic it would be if Fifth Harmony and Little Mix ACTUALLY collaborated.
We know that both girl bands are up for it, so could we be hearing a new tune from them soon?
Well, if the 5H ladies have anything to do it then HELL YEAH.
When asked by Official Charts Company if they had seen Little Mix's incredibly sassy video for absolute TUNE 'Shout Out To My Ex', Ally responded, "Oh, it was fabulous. They sounded fabulous, they were fabulous, they are fabulous".
Basically she fangirled like everyone else.
She went on to say that "Little Mix are amazing. We should [collaborate], I'd love that". WHAT ARE YOU WAITING FOR GIRLS?!
Seeing as the American stunners love the British babes so much, how do they feel about all the criticism the ladies got over their outfits on the X Factor? "It definitely makes me query as to where we are in the world right now. We definitely do get [criticism] sometimes. I remember when the 'Work From Home' video came out and people had a bunch to say. We did also get a lot of support from our amazing fans, but it was kind of outsiders that were the ones criticising us", Normani explained.
"We're women and we want to embrace that, so whatever makes us feel good. We work really hard every single day and we want that to be seen, and we want to be confident. If I want to wear shorts or a crop top, that doesn't necessarily make me a s**t. It just means I'm confident in my body because I work really hard for it", she continued.
YES FOR WOMEN EMPOWERMENT.
Preach it, sisters.
P.S. Let us know a release date for that collaboration, yeah?
You May Also Like...
11 Things You Didn't Know About Stranger Things...
01:38
Trending On Capital FM