Little Mix's Jade Thirlwall Has Just OWNED A Homophobe In The Greatest Way Imaginable!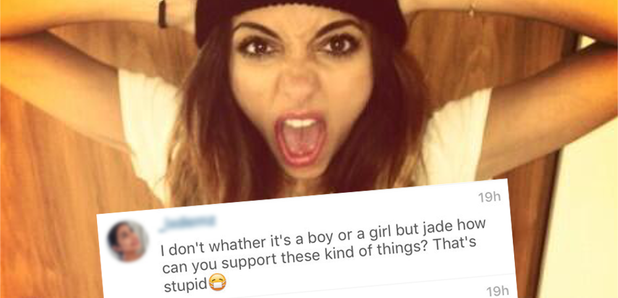 We all know Jade as a pure God in human-form. But this is just the icing on the cake as she absolutely SLAYS after someone leaves a homophobic remark on her Instagram. Do not mess with Jade.
She can sing. She can dance. And now she can pretty much become the ruler of the planet, in our eyes.
Recently, Jade Thirlwall posted her 'Woman Crush Wednesday' on Instagram - 'Drag Race' star, RuPaul.
And just like the Internet is every day, no-one was angry and left trolling remarks. The end.
Or so we thought until one user commented saying "I don't whather it's a boy or girl but jade how can you support these kind of things? That's stupid", and that RuPaul was "not normal at all". At least she left a smiling emoji, so that makes it all better, right? RIGHT?!
But then Jade donned her cape and mask, and flew in to be the true hero that she is, replying with:
"How can I support other beautiful people? Quite easily actually. If you don't 'support' these kind of 'things' (assuming you mean drag queens or the gay community) then I suggest you go and comment on somebody else's Instagram. Someone just as homophobic, ignorant and as warped as yourself. SASHAY. AWAY."
Let's just take a second to appreciate... SASHAY. AWAY. #Hero.

You May Also Like...