WORLD EXCLUSIVE! Little Mix Perform 'Secret Love Song' With Jason Derulo Just For The JBB!
5 December 2015, 21:39 | Updated: 7 December 2015, 13:26
Little Mix put on an incredible show and surprised the fans with a WORLD EXCLUSIVE joint performance of 'Secret Love Song' with Jason Derulo just for the #CapitalJBB!
They've sold out venues the world over and performed at several of our Balls before, so it's no surprise Little Mix were an act definitely NOT to be missed when they took to the stage - and they even had a VERY special surprise in store, too!
In a world exclusive performance, Little Mix brought Jason Derulo out to perform their joint track 'Secret Love Song' together - which they CONFIRMED would be their next single - live just for Capital's Jingle Bell Ball with Coca-Cola... and it was AMAZING!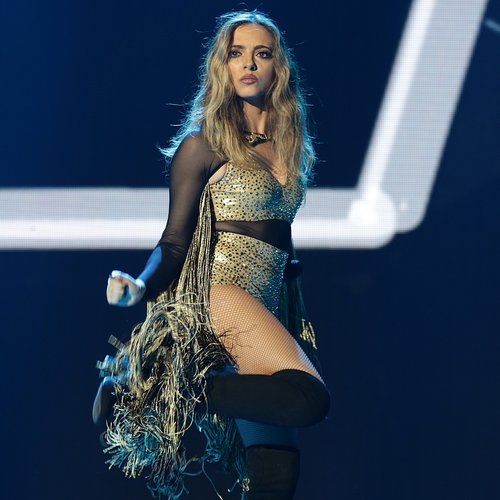 Little Mix performed a six-song set, kicking it off with their lady power anthem 'Salute' - and the energy was electric from the moment those drums rang out across the O2 Arena - what a way to kick off the show!
The girls all rocked a variety of stunning sparkling dresses - their on-stage fashion is just as on-point as their red carpet wear - and as well as playing a couple of their old classics including 'Move' and 'Wings', the girls showed off some of their brilliant new tracks from their 'Get Weird' album including 'Love Me Like You' and 'Black Magic'.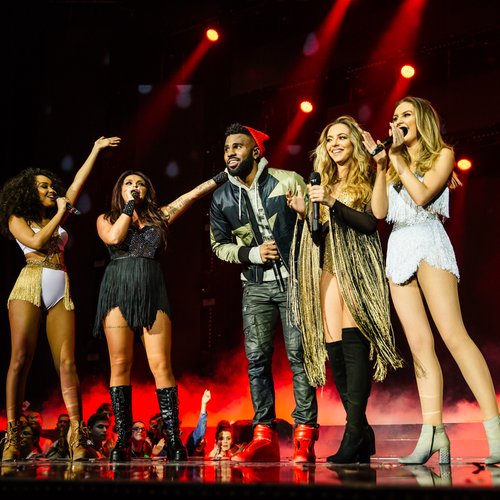 As if the crowds weren't amped up enough, the girls brought Jason Derulo on stage with them mid-way through their set for the first ever live performance of their joint song 'Secret Love Song' together - and it was just as stunning as you'd expect from these two world renowned artists!
OH MY @jasonderulo HAS JUST JOINED LITTLE MIX FOR SECRET LOVE SONG #CAPITALJBB @LITTLEMIX #LittleMixAtCapitalJBB pic.twitter.com/qdkJWTiInX

— / gaby / (@fireproofleigh) December 5, 2015
The girls told the crowd, "So we have an exclusive for you. We know you'll enjoy a cheeky little surprise. This song is going to be our next single, we hope you enjoy it", before launching into 'Secret Love Song - the surprises kept on coming!
Ahead of their performance, Perrie, Jesy, Jade and Leigh-Anne put their mark on their dressing room by turning it into easily the sparkliest room in all of the O2 - those girls sure do love glitter!
Needless to say, Twitter pretty much exploded when Little Mix took to the stage - and you guys couldn't stop gushing about how amazing our ladies were:
THIS IS THE BEST THING THAT HAS EVER HAPPENED OH MY GOD MY QUEENS AND JASON DERULO #LittleMixAtCapitalJBB #CapitalJBB

— anna loves harry (@stylesparxdise) December 5, 2015
@rachelfurner OH MY GOSH SECRET LOVE SONG IS LITTLE MIX'S NEXT SINGLE WOWOWOW

— behind closed doors (@justbetich) December 5, 2015
@CapitalOfficial @LittleMix @jasonderulo YES YES YES YES YES

— |sara| (@YeahhImAFangirl) December 5, 2015
@CapitalOfficial @LittleMix @jasonderulo OMFG!!!thats the best thing that happened to me everrrr yayyyyyyyyyyy

— Perrie Edwards (@adidas_perrie) December 5, 2015
Sls is the girls next single omg my fave from the album yes yes @LittleMix

— leah (@leahxwilliams) December 5, 2015
@CapitalOfficial @LittleMix yeeeaaap! One of My favourite songs of the album! #CapitalJBB

— THANK YOU LM!!!! (@Paola_Prov) December 5, 2015
@LittleMix I am crying Secret Love Song is the most perfect song ever I am so happy it is the next single

— Melissa Ambrose (@ItsBubbles21) December 5, 2015
Little Mix's Full #CapitalJBB Set List