Jesy Nelson's Boyfriend: Harry James Is A Former Rapper Who Actually Has A Song With Ed Sheeran
9 May 2018, 12:26 | Updated: 16 May 2018, 16:18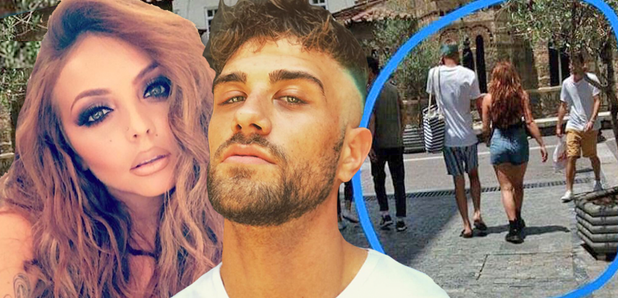 Jesy Nelson and boyfriend Harry James are enjoying some alone time during a romantic holiday in Dubai.
Little Mix's Jesy Nelson and boyfriend Harry James have been together for nearly a year now after her ill-fated relationship with TOWIE cast member Chris Clark.
Enjoying a holiday away from her Little Mix ladies, the 26 year old and her other half are on a well-deserved break in Dubai which they're happily gloating about on Instagram.
> WATCH: A Little Mix Fan Bypassed Security To Get Into The Girls' Car For An Autograph
And now, as Jesy reveals more pictures of boyfriend Harry, and as they approach their one-year anniversary, many of you may be asking 'Who is Harry James?' – there may even be some of you who recognise him already.
Harry, also 26, is actually a music star in his own right, formerly going by the stage name Fugative and making his name on Channel U. He had a number of hits which reached the top 40 in the UK charts and had the likes of Grime star Wiley as well as a certai feature on his songs.
After deciding to drop the name Fugative, Harry decided to switch to his birth name and continued in the music game, recently producing for the likes of Stefflon Don and Devlin as well as a solid Grime track entitled 'Comfy' for rising star Yungen.
Speaking to Pardon My Blog about their track at the time, Yungen said, "With Comfy I worked with a guy called Fugitive (sic) who was big in rap back in the day. He was a Channel U legend and made so many songs for the girls. He's a sick producer now! But he doesn't really do grime, but he told me he had a grime beat he thought I would like. Then when he played it to me I was like YES! We are doing this one. We were in the studio for a couple of days just vybzing..."
Jesy and Harry are thought to have started dating around June 2017 with close friends insisting they were "smitten with one another". Little Mix fans have also taken to Twitter to share their thoughts on the rumoured new couple...
Jesy's new boyfriend is

— Perrie Edwards (@PerrieHQ) July 4, 2017
THE GUY JESY IS MEANT TO BE SEEING IS HARRY JAMES AKA FUGATIVE HE SANG THOSE SONG JIMMY SHOE/CRUSH IM

— N E L S O N (@InspiredByJesy) July 3, 2017
so jakesy are not together and now jesy has a new man???? harry james who is he pic.twitter.com/28I4c7mBKX

— ann (@touchmyleigh) July 3, 2017
is this really Jesy's new boyfriend pic.twitter.com/Cy76YbyDJG

— J (@5HfeatLittleMix) July 4, 2017
I don't care if Jesy's boyfriend is hot, I just want him to treat Miss Jessica the way she deserves.

— karla (@artslouisa) July 3, 2017
With the pair both working in the music industry, will we be seeing Harry work with Little Mix in the near future or will Jesy keep this relationship completely separate from her music?
We can't wait to find out!
Whilst we wait though, you might as well remind yourself how great Little Mix's performance of 'Power' was at the #CapitalSTB in 2017...