Little Mix – 'Touch' (Live At The Jingle Bell Ball 2018)
11 December 2018, 16:29
It just wouldn't be the UK's biggest Christmas party without a stellar set from Little Mix!
They're the band you guys ALWAYS ask us to put on the line-up, and Little Mix absolutely smashed it tonight!
Capital's Jingle Bell Ball 2018: How To Watch, Listen & Stream
Performing 'Touch' as part of their set for their fifth time at Capital's Jingle Bell Ball with Coca-Cola, the girls had all 16,000 of you singing with them.
You have to be a pretty special act to be asked to close the whole of the #CapitalJBB, and you can catch all of Little Mix's set right here.
Little Mix – Jingle Bell Ball 2018 Set List
'Power'
'Black Magic'
'Touch'
'Secret Love Song'
'Only You'
'Woman Like Me'
'Shout Out To My Ex'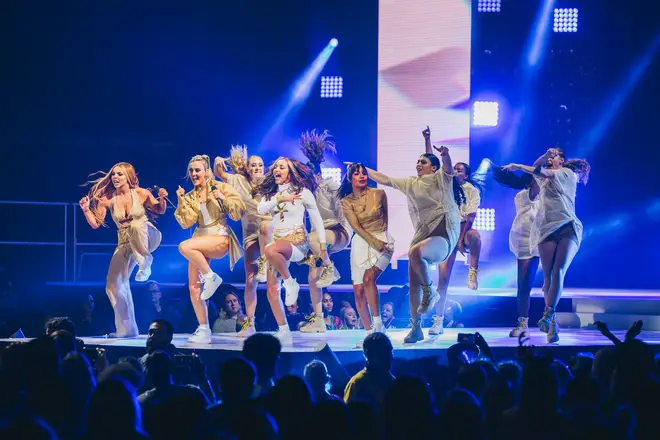 Little Mix – 'Touch' Lyrics
You and I and nobody else
Feeling feelings I never felt
The way you got me under your spell
Don't you keep it all to yourself
So won't you take it, I feel like for the first time I am not faking
Fingers on my buttons and now you're playing
Master of anticipation
Don't you keep it all to yourself
Just a touch of your love is enough
To knock me off of my feet all week
Just a touch of your lo-ove
Just a touch of your lo-ove
Just a touch of your love is enough
To take control of my whole body
Just a touch of your lo-ove
Just a touch of your lo-ove
Just a touch of your love is enough
To knock me off of my feet all week
Just a touch of your lo-ove
Just a touch of your lo-ove
Just a touch of your love is enough
To take control of my whole body
Just a touch of your lo-ove
Just a touch of your lo-hey-ove
Photograph with no T-shirt on
Why you making me wait so long? (wait so long)
I promise to keep this a secret, I'll never tell
But don't you keep it all to yourself
So won't you take it, I feel like for the first time I am not faking
Fingers on my buttons and now you're playing
Master of anticipation
Don't you keep it all to yourself (to yourself)
Just a touch of your love is enough
To knock me off of my feet all week
Just a touch of your lo-ove (just a touch)
Just a touch of your lo-ove (just a touch)
Just a touch of your love is enough
To take control of my whole body
Just a touch of your lo-ove (just a touch, just a touch)
Just a touch of your lo-ove (just a touch, just a touch)
Just a touch of your love is enough
To knock me off of my feet all week (knock me off my feet)
Just a touch of your love, hey
Just a touch of your love, hey
Just a touch of your love is enough
To take control of my whole body (body)
Just a touch of your love, hey
Just a touch of your lo-hey-ove
And now my whole week, my whole week is golden (yeah)
Can you see me glowing? that's how I feel (feel)
And I'm not afraid to fade into emotions (yeah)
'Cause I know that this could be something real 
Just a touch of your love is enough
To knock me off of my feet all week
Just a touch of your lo-ove (hey)
Just a touch of your lo-ove (just a touch)
Just a touch of your love is enough
To take control of my whole body (body)
Just a touch of your lo-ove (only a touch of your love)
Just a touch of your love (want a touch of your)
Just a touch of your love is enough
To knock me off of my feet all week
Just a touch of your love, hey (just a touch)
Just a touch of your love, hey (just a touch)
Just a touch of your love is enough
To take control of my whole body (oh yeah)
Just a touch of your love, hey
Just a touch of your lo-ove
> Download Our App For The Latest #CapitalJBB News