Jesy Nelson's Gun Tattoo Is Slammed By Piers Morgan As 'Dangerously Deluded & Dumb'
5 December 2018, 12:38
Little Mix's Jesy Nelson has come under fire from Piers Morgan on 'This Morning' again after she got a new tattoo of a gun, something he's slammed as 'irresponsible' for a role model to 'impressionable young women'.
Jesy Nelson has come under fire from controversial This Morning host Piers Morgan once again for a new tattoo of a gun, something he's branded 'dangerously deluded and dumb', calling her out for being a 'bad influence on impressionable young women'.
Little Mix Fans Are Furious With Piers Morgan For Calling Jesy Nelson's Latest Underwear Photo 'Grim'
Addressing the Little Mix's new tattoo, Piers let rip saying: "It's a gun on the right side of her back side...isn't that great as gun crime in this country starts to pick up.. of course the best thing to do as a role model to millions of impressionable young girls is tattoo a gun to her back side".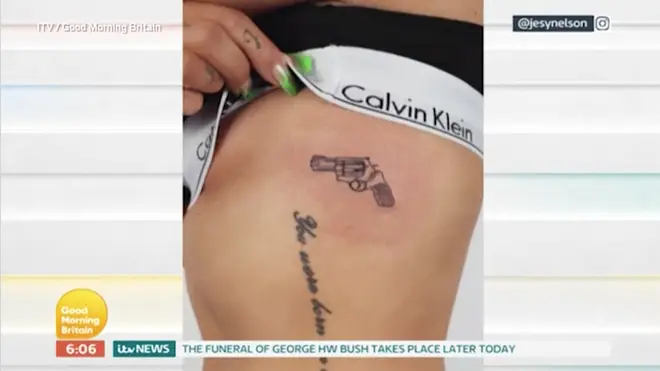 He continued: "What happened in America is when all the rappers use guns their fans go and get guns and they start shooting each other it actually happens it isn't a figment of my imagining we know in America the gun imagery used by rap stars is at a direct link between that and shooting people, I think it's a dumb thing to do".
He followed up his on-screen rant with a tweet, labelling the band 'cynical and exploitative', something he previously said when slating their 'Strip' cover artwork where the band posed together without any clothes.
Little Mix fans have leapt to the singer's defence, hitting back at Piers that they are the 'impressionable young women' he is discussing and they have no desire to either imitate the tattoo, nor promote gun violence.
Guns don't just have a negative meaning, the world has changed it into that. For Jesy, it means power and strength. Not gun violence so stfu

— Jadey ✧ (@jeedsrose) December 5, 2018
@piersmorgan stfu! All tattoos have a meaning behind it! Don't just assume something that you have no facts/ receipts about!

— jesy isnt promoting guns (@ThickNicoleA) December 5, 2018
Can we talk about how obsessed piers Morgan is out LM, you wouldn't of known about Jesy's tattoo unless you went onto her insta... and tbh somehow I don't think she's inspiring young people to go out and get a gun from a small tattoo on the side of her rib cage😂😂

— K🌹 (@perriekills_) December 5, 2018
Jesy has since deleted the Instagram story post showing off the new tattoo and has not yet commented on Piers's bashing of her new ink and the band.
>Grab Our App To Watch Little Mix Perform At The #CapitalJBB