Justin Bieber & Hailey Baldwin Reveal They Didn't Have Sex Before Marriage In Vogue interview
7 February 2019, 12:57 | Updated: 7 February 2019, 13:05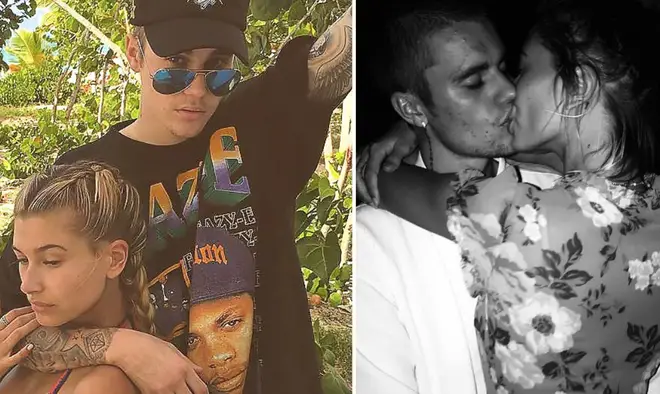 Justin Bieber & Hailey Baldwin have 'confirmed the secret to their relationship' to Vogue.
Justin Bieber & Hailey Baldwin tied the knot last year and they've now revealed the secret to their happy relationship: celibacy.
Speaking to Vogue, the couple confessed they 'saved themselves' for their wedding day.
Justin Bieber & Hailey Baldwin's Relationship: From Friends To Fiancés
Justin told the magazine he made the decision to be celibate in 2017 after developing a 'legitimate problem with sex' and he believes he's now been 'rewarded' by God for his 'good behaviour'.
He said: "[God] doesn't ask us not to have sex for him because he wants rules and stuff. He's like, I'm trying to protect you from hurt and pain. I think sex can cause a lot of pain.
"Sometimes people have sex because they don't feel good enough. Because they lack self-worth. Women do that, and guys do that. I wanted to rededicate myself to God in that way because I really felt it was better for the condition of my soul. And I believe that God blessed me with Hailey as a result.
"There are perks. You get rewarded for good behaviour."
Justin and Hailey, who are reportedly eager to start a family, first met in 2009 but they didn't officially start dating until years later in 2016. Their romance was short-lived, though, and Hailey admitted they 'didn't speak for quite some time' following their first break-up, which is when Justin rekindled his romance with Selena Gomez.
However, the pair got back in touch in June 2018 after reconnecting as friends at a Hillsong church service in Manhattan and now they are husband and wife.
Hayiley told the magazine: "One day Justin walked into Hillsong and was like, 'Hey, you got older.' I was like, 'Yeah, what's up?'
"Over time he became my best guy friend. I was running around with him as his homie, but we weren't hanging out [romantically]."
We're so happy for these two!
> Grab Our App For The Latest Justin & Hailey Bieber News