Ellie Goulding - 'Still Falling For You' (Live At The Jingle Bell Ball)
5 December 2016, 15:25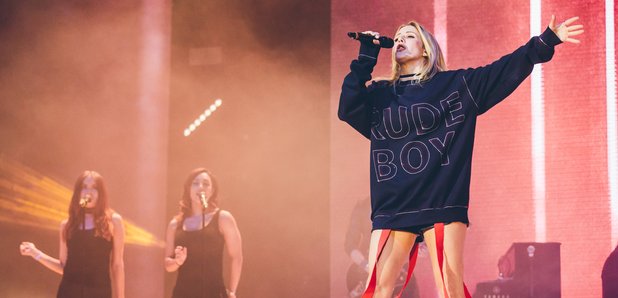 We're not sure Ellie Goulding's live set at the #CapitalJBB could have been any better – it was simply perfect!
After releasing three albums and with a brand new rumored to be one on the way in 2017, Ellie had a number of tracks to choose from for her set list and it basically worked out to be a 'greatest hits so far' set.
Capital's Jingle Bell Ball with Coca Cola is always an amazing event, so when the crowd erupted upon Ellie Goulding's appearance on the stage, everyone knew we were in for something special and special is exactly what Ellie gave us.
Could she have looked any more incredible? Nope. Could she have sounded any more like a global superstar? Nope. So that's pretty much what we call perfection then.
You can relive her amazing #CapitalJBB set by clicking play on the video below – you won't be disappointed!
As well as 'Still Falling For You', Ellie Goulding performed a number of her other massive hits, which got the #CapitalJBB rocking!
Ellie Goulding– Jingle Bell Ball 2016 Setlist
'On My Mind'
'Burn'
'Outside'
'I Need Your Love'
'Still Falling For You'
'Anything Could Happen'
'Love Me Like You Do'
Ellie Goulding 'Still Falling For You' Lyrics
Fire and ice
This love is like fire and ice
This love is like rain and blue skies
This love is like sun on the rise
This love got me rolling the dice
Don't let me lose
Still falling for you
Still falling for you
Beautiful mind
Your heart got a story with mine
Your heart got me hurting at times
Your heart gave me new kind of highs
Your heart got me feeling so fine
So what to do
Still falling for you
Still falling for you
It took us a while
With every breath a new day
With love on the line
We've had our share of mistakes
But all your flaws and scars are mine
Still falling for you
Still falling for you
And just like that
All I breathe
All I feel
You are all for me
I'm in
And just like that
All I breathe
All I feel
You are all for me
No one can lift me, catch me the way that you do
I'm still falling for you
Brighter than gold
This love shining brighter than gold
This love is like letters in bold
This love is like out of control
This love is never growing old
You make it new
Still falling for you
Still falling for you
It took us a while
'Cause we were young and unsure
With love on the line
What if we both would need more
But all your flaws and scars are mine
Still falling for you
Still falling for you
Still falling for you
And just like that
All I breathe
All I feel
You are all for me
I'm in
And just like that
All I breathe
All I feel
You are all for me
No one can lift me, catch me the way that you do
Still falling for you
Falling, crash into my arms
Love you like this
Like a first kiss
Never let go
Falling, crash into my arms
Never breaking what we got
Still falling for you
Still falling for
And just like that
All I breathe
All I feel
You are all for me
I'm in
And just like that
All I breathe
All I feel
You are all for me
All for me
And just like that
All I feel is you
All I feel is you
You are all for me
I'm still falling
And just like that
All I feel is you
All I feel is you
You are all for me
No one can lift me, catch me the way that you do
I'm still falling for you