Ellie Goulding - 'On My Mind' (Live At The Jingle Bell Ball 2016)
4 December 2016, 22:17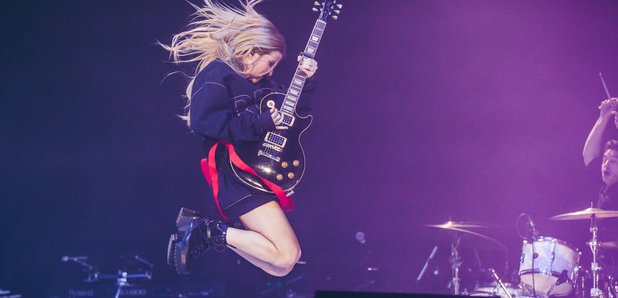 She's been performing for a number of years now and Ellie Goulding's #CapitalJBB set was proof of just how amazing she really is!
Having witnessed a number of incredible artists across the weekend at Capital's Jingle Bell Ball with Coca Cola, Ellie Goulding was definitely primed to be one of the highlights of the entire show.
Having performed at London's O2 Arena on a number of occasions now, Ellie knows exactly what it takes to impress a crowd of 16,000 people and her amazing live set was proof that she's at the top of her game right now.
Dressed in a seriously stunning outfit that was perfect for the occasion, Ellie showcased exactly why she's one of the most popular British artists across the world. Vocally superb and a powerful stage presence – not many people
You can relive her amazing #CapitalJBB set by clicking play on the video below – it was one to remember!
As well as 'On My Mind', Ellie Goulding performed a number of their other massive hits, showing why she's so loved across the globe.
Ellie Goulding– Jingle Bell Ball 2016 Setlist
'On My Mind'
'Burn'
'Outside'
'I Need Your Love'
'Still Falling For You'
'Anything Could Happen'
'Love Me Like You Do'
Ellie Goulding 'On My Mind' Lyrics
Oh
Oh oh oh, hey
It's a little dirty how the whole thing started
I don't even really know what you intended
Thought that you were cute and you could make me jealous
Poured it down, so I poured it down
Next thing that I know I'm in the hotel with you
You were talking deep like it was mad love to you
You wanted my heart but I just liked your tattoos
Poured it down, so I poured it down
And now I don't understand it
You don't mess with love, you mess with the truth
And I know I shouldn't say it
But my heart don't understand
Why I got you on my mind
Why I got you on my mind
Why I got you on my mind
Why I got you on my mind (but my heart don't understand)
Why I got you on my mind
Why I got you on my mind
Why I got you on my mind
Why I got you on my mind, uh huh, uh huh, uh huh, uh huh
I always hear, always hear them talking
Talking 'bout a girl, 'bout a girl with my name
Saying that I hurt you but I still don't get it
You didn't love me, no, not really
Wait, I could have really liked you
I'll bet, I'll bet that's why I keep on thinking 'bout you
It's a shame (shame), you said I was good
So I poured it down, so I poured it down
And now I don't understand it
You don't mess with love, you mess with the truth
And I know I shouldn't say it
But my heart don't understand
Why I got you on my mind
Why I got you on my mind
Why I got you on my mind
Why I got you on my mind (but my heart don't understand)
Why I got you on my mind (you think you know somebody)
Why I got you on my mind (you think you know somebody
Why I got you on my mind (you think you know somebody)
Why I got you on my mind
You got yourself in a dangerous zone
'Cause we both have the fear, fear of being alone
And I still don't understand it
You don't mess with love, you mess with the truth
And my heart don't understand it, understand it, understand it
Why I got you on my mind (you think you know somebody)
Why I got you on my mind (you think you know somebody)
Why I got you on my mind (you think you know somebody)
Why I got you on my mind (but my heart don't understand)
Why I got you on my mind (you think you know somebody)
Why I got you on my mind (you think you know somebody)
Why I got you on my mind (you think you know somebody)
Why I got you on my mind (but my heart don't understand)
Why I got you on my mind (you think you know somebody)
You think you know somebody (why I got you on my mind)
You think you know somebody
Ah ah ah ah oh ah