Ellie Goulding - 'Anything Could Happen' (Live At The Jingle Bell Ball 2016)
5 December 2016, 15:30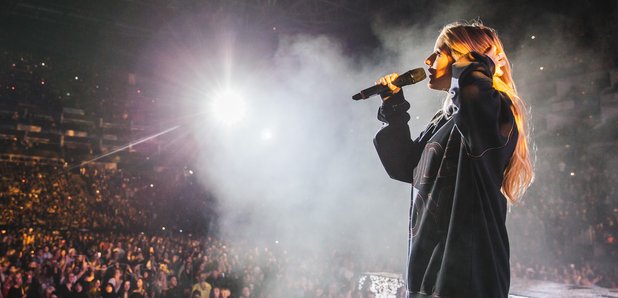 Ellie Goulding's live performance has been wowing crowds for years now and she was on fine form at this year's #CapitalJBB!
Having worked with the likes of DJ supremo Calvin Harris in the past, Ellie is no stranger to making a massive dancefloor smash and her set was filled with plenty of them.
Capital's Jingle Bell Ball with Coca Cola had been an absolutely brilliant day and why the time we got to Ellie Goulding's set everyone was already on a massive high. Of course Ellie took full advantage and took everyone's excitement levels up yet another notch with her top performance.
When you're as good as Ellie Goulding, it's almost impossible to sound bad, and her vocals were simply stunning from start to finish – all that whilst bounding around the stage putting on a dominant performance – what more could we want?
You can relive her amazing #CapitalJBB set by clicking play on the video below – you know you want to!
As well as 'Anything Could Happen', Ellie Goulding performed a number of her other massive hits, which turned the #CapitalJBB crowd up to 11!
Ellie Goulding– Jingle Bell Ball 2016 Setlist
'On My Mind'
'Burn'
'Outside'
'I Need Your Love'
'Still Falling For You'
'Anything Could Happen'
'Love Me Like You Do'
Ellie Goulding 'Anything Could Happen' Lyrics
Stripped to the waist
We fall into the river
Cover your eyes
So you don't know the secret
I've been trying to hide
We held our breath
To see our names are written
On the wreck of '86
That was the year
I knew the panic was over
Yes since we found out
Since we found out
That anything could happen
Anything could happen
Anything could happen
Anything could happen
Anything could happen
Anything could happen
Anything could
After the war we said we'd fight together
I guess we thought that's just what humans do
Letting darkness grow
As if we need it's palette and we need it's color
But now I've seen it through
And now I know the truth
That anything could happen
Anything could happen
Anything could happen
Anything could happen
Anything could happen
Anything could happen
Anything could
Baby, I'll give you everything you need
I'll give you everything you need, oh
I'll give you everything you need
But I don't think I need you
Stripped to the waist
We fall into the river
Cover your eyes
So you don't know the secret
I've been trying to hide
We held our breath
To see our names are written
On the wreck of '86
That was the year
I knew the panic was over
Yes since we found out
Since we found out
That anything could happen
Anything could happen
Anything could happen
Anything could happen
Anything could happen
Anything could happen
Anything could
I know it's gonna be
I know it's gonna be
I know it's gonna be
I know it's gonna be
I know it's gonna be
I know it's gonna be
I know it's gonna be
I know it's gonna be