Ellie Goulding - 'Burn' (Live At The Jingle Bell Ball 2016)
4 December 2016, 22:22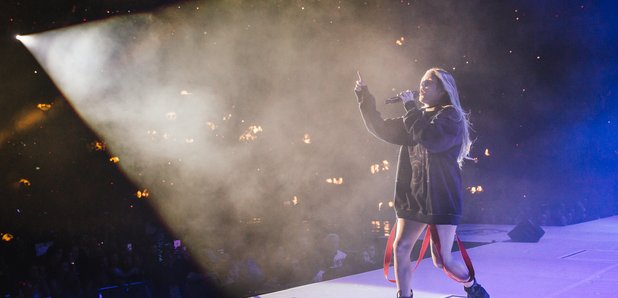 Ellie Goulding's fan base stretches long and far across the globe, so you know her #CapitalJBB set was always going to be full of smash hits!
Capital's Jingle Bell Ball with Coca Cola is full of phenomenal artists and Ellie Goulding was one of the biggest on the lineup this year. Having taken home loads of awards over the years, Ellie really is a British gem.
The crowd at London's O2 Arena were ready for something special and that is exactly what they got as soon as Ellie stepped out onto the stage in front of all 16,00 people in attendance.
Looking as stunning as always and with a voice that is pretty much unrivalled, Ellie was a tour de force and put on one seriously memorable show – talk about being an incredible performer!
You can relive her amazing #CapitalJBB set by clicking play on the video below –prepare to have this set on repeat for quite a while!
As well as 'Burn', Ellie Goulding performed a number of her other massive hits, which proved exactly why she's built such an incredible fan base.
Ellie Goulding– Jingle Bell Ball 2016 Setlist
'On My Mind'
'Burn'
'Outside'
'I Need Your Love'
'Still Falling For You'
'Anything Could Happen'
'Love Me Like You Do'
Ellie Goulding 'Burn' Lyrics
We, we don't have to worry bout nothing
'Cause we got the fire, and we're burning one hell of a something
They, they gonna see us from outer space, outer space
Light it up, like we're the stars of the human race, human race
When the lights turned down, they don't know what they heard
Strike the match, play it loud, giving love to the world
We'll be raising our hands, shining up to the sky
'Cause we got the fire, fire, fire, yeah we got the fire fire fire
And we gonna let it burn burn burn burn
We gonna let it burn burn burn burn
Gonna let it burn burn burn burn
We gonna let it burn burn burn burn
We don't wanna leave, no, we just gonna be right now
And what we see, is everybody's on the floor
Acting crazy getting loco to the lights out
Music's on, I'm waking up, we stop the vibe, and we bump it up
And it's over now, we got the love, there's no secret now, no secret now
When the lights turned down, they don't know what they heard
Strike the match, play it loud, giving love to the world
We'll be raising our hands, shining up to the sky
'Cause we got the fire, fire, fire, yeah we got the fire fire fire
And we gonna let it burn burn burn burn
We gonna let it burn burn burn burn
Gonna let it burn burn burn burn
We gonna let it burn burn burn burn
When the lights turned down, they don't know what they heard
Strike the match, play it loud, giving love to the world
We gonna let it burn burn burn burn
Burn burn burn burn
We can light it up up up
So they can put it out out out
We can light it up up up
So they can put it out out out
We can light it up up up
So they can put it out out out
We can light it up up up
So they can put it out out out
When the lights turned down, they don't know what they heard
Strike the match, play it loud, giving love to the world
We'll be raising our hands, shining up to the sky
'Cause we got the fire, fire, fire, yeah we got the fire fire fire
And we gonna let it burn burn burn burn
We gonna let it burn burn burn burn
Gonna let it burn burn burn burn
We gonna let it burn burn burn burn
When the lights turned down, they don't know what they heard
Strike the match, play it loud, giving love to the world
We'll be raising our hands, shining up to the sky
'Cause we got the fire, fire, fire, yeah we got the fire fire fire
And we gonna let it burn