Ellie Goulding - 'Outside' (Jingle Bell Ball 2016)
5 December 2016, 15:07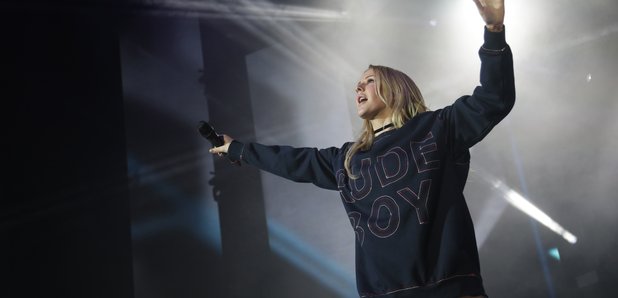 Ellie Goulding was one of the standout artists at the #CapitalJBB in 2015 and she was back this year with an even bigger performance!
Capital's Jingle Bell Ball with Coca Cola is where the biggest and best artists show exactly what they can do on stage at one of London's most iconic venues – so obviously Ellie Goulding had to be involved!
She' son eof the biggest selling artists from the UK in recent years and her live show is nothing short of amazing. She looked incredible, sounded perfect and proved that she is the go to artist if you want to get a part started.
Her debut album 'Lights' was released back in 2010 and since then she's released two other huge records, so when her live set consisted of the biggest and best tracks ffrom across all of them, the #CapitalJBB crowd weren't complaining.
You can relive her amazing #CapitalJBB set by clicking play on the video below –it's literally tune after tune after tune!
As well as 'Outside', Ellie Goulding performed a number of her other massive hits, making sure the UK's biggest Christmas party was totally rocking.
Ellie Goulding– Jingle Bell Ball 2016 Setlist
'On My Mind'
'Burn'
'Outside'
'I Need Your Love'
'Still Falling For You'
'Anything Could Happen'
'Love Me Like You Do'
Ellie Goulding 'Outside' Lyrics
Look at what you've done
Stand still, falling away from me
When it takes so long
For I desire, what do you want to be?
I'm holding on
Yourself was never enough for me
Gotta be so strong
There's a power in what you do
Now every other day I've been watching you
Oh oh, oh oh I'll show you what it feels like
Now I'm on the outside, oh oh
We did everything right
Now I'm on the outside, oh oh
I'll show you what it feels like
Now I'm on the outside, oh oh
We did everything right
Now I'm on the outside
So you give me no reason
For me to stay close to you
Tell me what lovers do
How are we still breathing
It's never for us to choose
I'll be the strength in you
Now I'm holding on
Yourself was never enough for me
Gotta be so strong
There's a power in what you do
Now every other day I've been watching you, oh oh oh oh
I'll show you what it feels like
Now I'm on the outside, oh oh
We did everything right
Now I'm on the outside, oh oh
I'll show you what it feels like
Now I'm on the outside, oh oh
We did everything right
Now I'm on the outside
I'll show you what it feels like
Now I'm on the outside
I'll show you what it feels like
I'll show you what it feels like
Now I'm on the outside
We did everything right
Now I'm on the outside