Ed Sheeran Talks About 'Divide' & Reveals Which Song Only Made It On The Album Thanks To His GF!
2 March 2017, 16:17 | Updated: 15 June 2017, 16:11
Can you believe he almost forgot this awesome song?
We were all waiting for the day Ed Sheeran made his big comeback with new music, but the man himself has revealed that one of his new songs almost didn't make it on the album… because he forgot all about it!
Ed revealed to Roman Kemp how the stunning 'How Do You Feel' came about – and that he wrote it to keep his girlfriend entertained on her way to the airport and it's thanks to her that it made it on the record. N'awww.
He told Roman, "My girlfriend's from my home town but she was working in New York for like three years and she'd flown back for a festival in our home town and that's when we kind of rekindled, I guess.
"When she was taking her cab back to the airport, it was like a three hour drive and I was sat at home on my own and I thought I'd write a song quickly and send it to her so she's got something to listen to on the drive and then forgot about it.
"And then when the album was finished, I asked her what her favourite song was and she said 'You've forgotten it exists' and then sent it to me and I quickly recorded it and put it on. It was a really fast turnaround."
Make sure you keep it Capital tonight from 7pm to hear Ed's FIRST performance of some of his brand new songs in our exclusive live session!
Ed's third studio album '÷' is released on Friday 3rd March 2017 and you can grab your copy on Apple Music here.
It pretty much feels like an eternity since Ed Sheeran released 'x' and went on hiatus, but his new album '÷' is finally being released tomorrow (3rd March 2017).
Ed told his fans at the time, "First off, what a week! The reaction to my new singles has been absolutely mind-blowing and I can't thank you enough. My new album ÷ holds a very special place in my heart and I really believe this is my best work to date. I've been eager to get back and I couldn't be more excited for March 3rd."
Ed also revealed the track listing ahead of the release:
January 11, 2017
Ed Sheeran - '÷' track list:
'Eraser'
'Castle On The Hill'
'Dive'
'Shape Of You'
'Perfect'
'Galway Girl'
'Happier'
'Hearts Don't Break Around Here'
'New Man'
'What Do I Know?'
'How Would You Feel (Paean)'
'Supermarket Flowers'
'Shape Of You'
'Castle On The Hill'
Ed also spoke to Capital's Will & Aimee about the meaning behind one of his incredible new tracks - and you'll seriously fall in love with him even more!
His Album's Not Even Here - But We're Ready Ready For Ed Sheeran's 2017 UK Tour!
Cast your minds back to the very end of 2015 and you'll remember Ed Sheeran posting a message to his legions of fans promising he'll be back in a year with a third album. Not only that, the acoustic maestro claimed it was the 'best thing' he has made thus far.
Then 2017 arrived and Ed dropped this ten second video on New Year's Day...:"Hello 2017" YAAAASSSSS
Hello 2017... pic.twitter.com/1UyjpgoFbo

— Ed Sheeran (@edsheeran) January 1, 2017
In the video, Ed confirms that new music is due on Friday 6th January 2017. Of course, the #Sheerios came out in full force after the announcement!
@edsheeran YOU SAVED 2017

— janet (@titaniclarrie) January 1, 2017
@edsheeran Omg I can't breathe

— Devin Dressman (@devin_dressman) January 1, 2017
@edsheeran pic.twitter.com/bdWtJuOt4E

— ☼ (@isthisinmyhead) January 1, 2017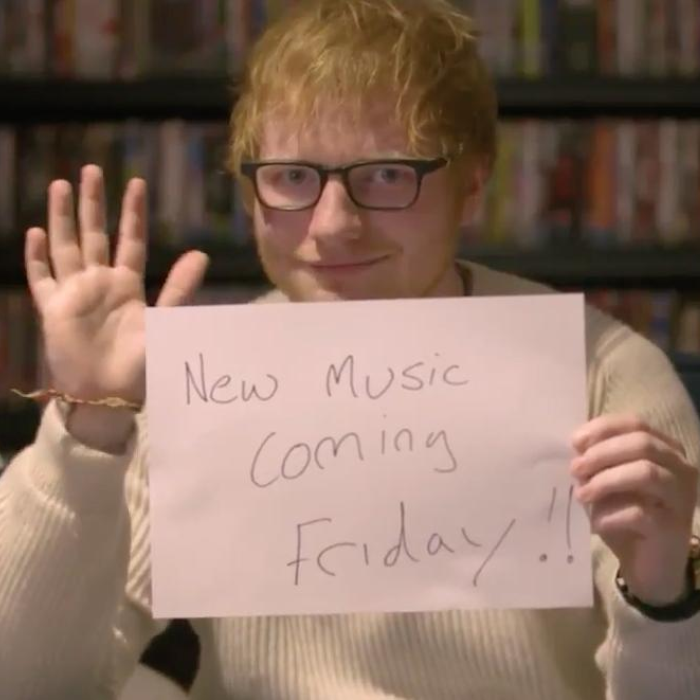 PIC: Ed Sheeran/Twitter
Now ALL we needed was just a little bit more information and we'd be happy to wait until the first Friday of 2017 and of course the KING gave us just that...
Add to that, Mr.Sheeran posted a random sentence along with a video the day after the New Year's bank holiday teasing a lyric:
When I was six years old I broke my leg... pic.twitter.com/IDIoHf5h8b

— Ed Sheeran (@edsheeran) January 3, 2017
You may also like...