Ed Sheeran's New Album Hasn't Even Dropped Yet, But We're Already Hyped For His Tour!
4 January 2017, 11:10 | Updated: 22 May 2017, 12:18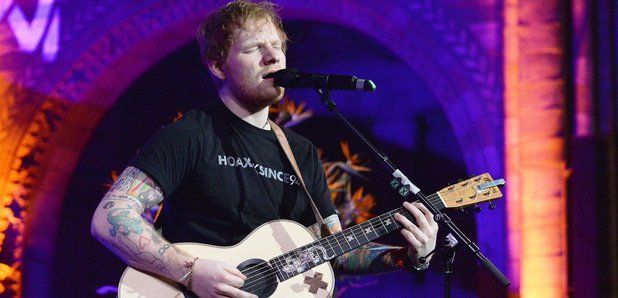 Please Ed, make us forget all about 2016!
2017's only a few days old, but we're already thinking it's gonna be an EPIC year... because Ed Sheeran's back!
Just in case you've been living under a rock the last few days, Ed broke his year long social media hiatus to broadcast this message...
Yep! Ed's dropping some new music on Friday, and it looks like a new album, which we're convinced is '÷' (like, y'know, 'Divide'...), will be dropping early this year too!
> Everything You Need To Know About Ed Sheeran's New Album '÷'
So... A new song's dropping on Friday at 5am. A new album is pretty much confirmed too. There's only one part of that holy trinity left to be announced... A 2017 UK TOUR!
employer: why did you apply for this job?
me: ed sheeran is releasing an album this year and might tour it
employer: shit fam, you hired

— thicc (@irontomlinsons) January 4, 2017
When U can't make ANY plans for 2017 because U need 2 know when @edsheeran's next tour will be in Las Vegas. #Priorities@StuartCamp

— Tracy K (@whitcomb_tracy) January 4, 2017
my biggest fear is that ed sheeran announces a tour soon and i can't go because i don't know what uni ill go to in 6 months

— tami (@slytherinlvke) January 4, 2017
ED SHEERAN YES NEW ALBUM = NEW TOUR BRING IT ON

— ㅤ (@admiredan) January 4, 2017
I need @edsheeran to announce tour dates soon so I can plan the rest of my year.

— Anna Madden (@annakmadden) January 4, 2017
@edsheeran ain't even drop his single yet and I'm preparing to save money for this tour

— Zeyoncè (@zepphh) January 3, 2017
I JUST CANT WAIT FOR AN ED SHEERAN TOUR PLSJF

— celery (@peachymodel) January 3, 2017
CANT !! WAIT !! FOR !! ED !! SHEERAN'S !! NEXT !! ALBUM !! AND !! TOUR !!

— oliviaaa (@oliviamgc_) January 3, 2017
I pray that @edsheeran does a uk tour again this year

— Shannon Heals (@heals_shannon) January 3, 2017
Twitter's already flooded with people begging and pretty much offering to sell body parts to see Ed live again this year, and looking back at his epis tours, sell-out Wembley Stadium dates and performances at our Summertime and Jingle Bell Balls, it's no surprise!
Ed's new song drops this Friday (6th January) at 5am - download the Capital App to be the first to hear it!
Capital will be the first place you'll hear about Ed Sheeran's 2017 UK tour dates, so keep checking back for the latest! In the mean time, let's relive the exact reason we're mega-hyped for his comeback!
You May Also Like...