Ariana Grande Tweeted & Deleted About 'Clinging' Pete Davidson's SNL Engagement Jokes
2 November 2018, 10:50 | Updated: 2 November 2018, 11:08
Ariana Grande is not here for ex Pete Davidson's jokes about their recently called off engagement on Saturday Night Live!, tweeting and deleting about him clinging onto relevancy in the first direct shade we've seen from the singer.
Ariana Grande has lashed out at Pete Davidson over the latest teaser for Saturday Night Live!, of which he is a regular cast member, as he jokes alongside Jonah Hill about his recently called off engagement to the 'God Is A Woman' singer.
Ariana Grande Tattoo Guide: How Many Does She Have? What Ones Are For Pete Davidson? Ink Details Revealed
In the short teaser of the episode that's hosted by Jonah Hill and features musical guest Maggie Rogers, Pete jokes: "Hey Maggie, wanna get married?" to which the singer declines, and Pete sighs, saying: "0-3" and if he thought Ari would miss the jibe, he was oh so wrong.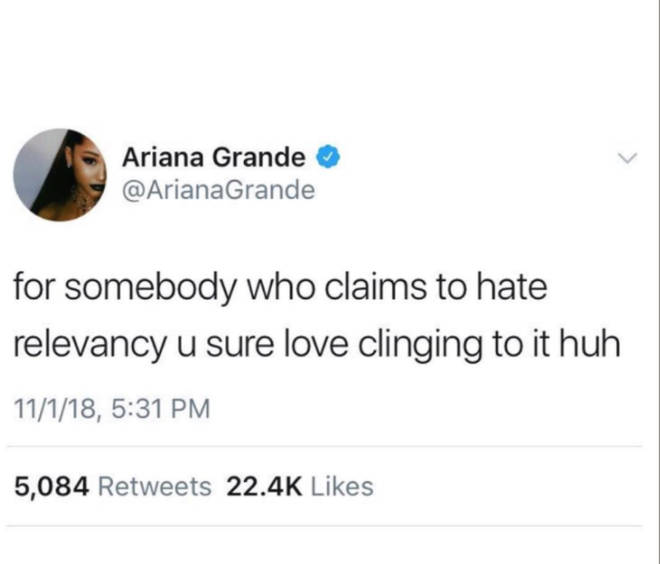 The 24-year-old comedian is well known for discussing his personal life in his stand up routines, and has already done a comedy gig in which he addressed the break-up, joking that he needs somewhere to live and asking audience members if they had a room going.
Up until this shady tweet, Ari had remained pretty tight lipped about the split, posting only in response to a fake media report about her 'changing the locks' on Pete- asking for privacy whilst the healed, but it seems things between the pair may be a little more sour than first thought.
none of this is true. it'd be so helpful if the media and everybody would please just drop it and drop makin stuff up so we can heal and support one another moving forward. it sucks to see this stuff. thank u guys for understanding. ♡ much love and appreciation.

— Ariana Grande (@ArianaGrande) October 25, 2018
TMZ has even reported his engagement jokes 'killed' around the SNL office whilst they brainstormed this week's material, and 'he even tried to write a sketch about it, but it hasn't made the cut yet for this week's show'. So, if this 30 second clip was enough to send Ariana into angry Twitter mode, we dread to think what will happen after the episode airs this weekend. Eek.
Want Tickets To Capital's Jingle Bell Ball Before Anyone Else? Download Our App Now To Access Pre-Sale!