Ariana Grande's Leaked 'Zandhr' Album Discovered By Fans
6 November 2018, 10:29 | Updated: 6 November 2018, 17:03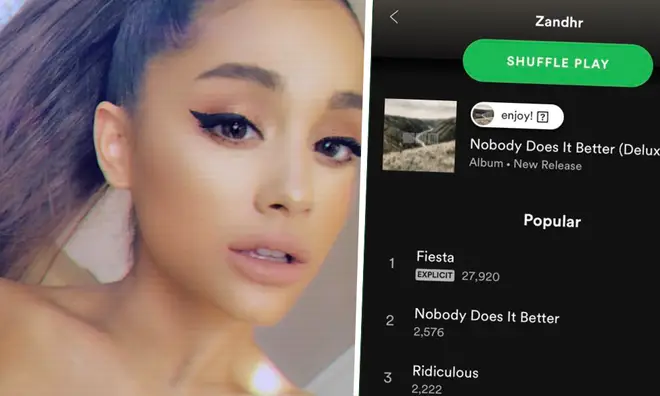 Ariana Grande fans discovered an album of unreleased songs called 'Nobody Does It Better' under the name 'Zandhr' and it includes a song with Migos rapper Quavo.
Ariana Grande only recently released her 'Sweetener' album, however a new album full of unreleased material has been discovered by fans under the name 'Zandhr'.
> Ariana Grande's Natural Hair: Here's What Her Curly Hair Looks Like
The album is called 'Nobody Does It Better' and the songs appear to have been leaked by a user named Zandhr, with a number of previously unreleased songs being included.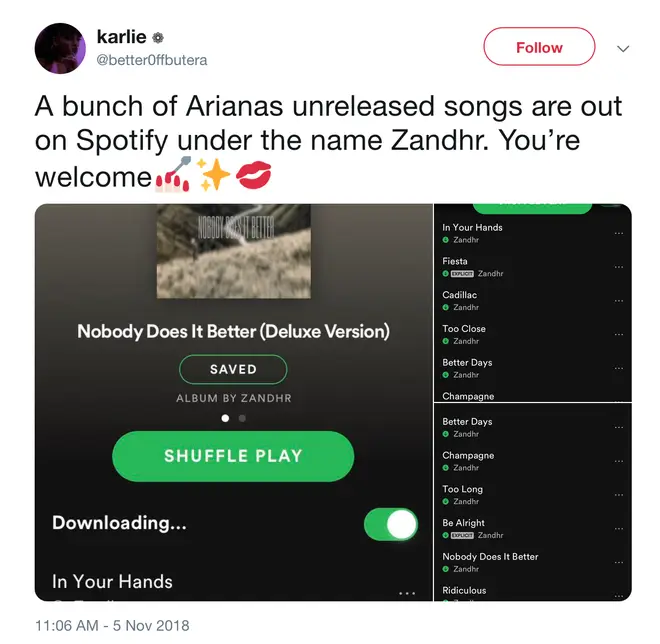 A quick listen to the album reveals that it's an Ariana Grande leak as the opening song 'In Your Hands' showcases Ari's vocals instantly, proving this isn't a release by unkown artist Zandhr.
But it's not only Ariana's voice which gives it all away - a look at Zandhr's bio reveals a hint at the secret, with upside down writing that says 'right now I'm in a state of mind, I wanna be in like all the time' - as we all know they're lyrics from Ariana's huge comback single 'no tears left to cry'.
Given the fact that Ariana's latest era has been all about posting upside down pictures and writing with upside down text, we'd say that's a bit of a giveaway that Zandhr's music isn't his/her own.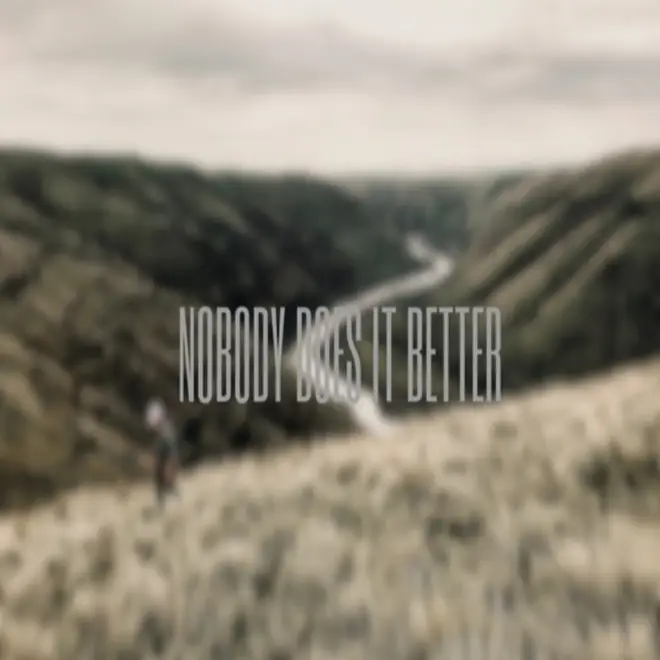 Whilst we know the album leak is nothing to do with Ariana, Zandhr chose to troll everyone even more by attaching just one playlist to the account - yep, you guessed it, it's the Best Of Ariana Grande.
Certain tracks on 'Nobody Does It Better' have been performed live by Ariana Grande before, with 'Champagne' appearing to be a version of Ariana's previously performed song 'Pink Champagne', whilst the album's title track is a fan-favourite unreleased song from Ariana's 'Dangerous Woman' era.
There are a few features on the album too, with Migos rapper Quavo being the most notable and it's got people asking how Ariana's unreleased songs could have been leaked.
After Ariana dropped new song 'thank u, next' out of nowhere recently, it owuld be quite a surprise if she just decided to post all her unreleased songs under a fake name out of the blue too.
The leak has been removed from music streaming services around the world and now questions will be asked to try and find out who Zandhr actually is.
> Want Tickets To Capital's Jingle Bell Ball Before Anyone Else? Download Our App Now To Access Pre-Sale!