The 16 Funniest 'Behind The Lyrics' Quotes On Spotify
9 April 2018, 13:21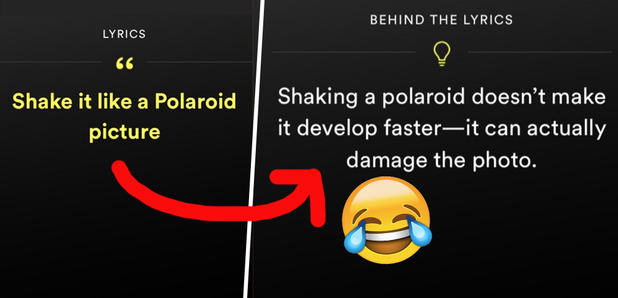 From Taylor Swift to 50 Cent, plenty of artists have had their lyrics hilariously analysed by Genius...
If you've ever used Spotify, you'll know that music-loving brand Genius have given us all the inside scoop when it comes to the biggest tunes around.
Their 'Behind The Lyrics' feature tells you interesting (and often hilarious) facts about what you're currently listening to, so we decided to pick out 16 of the absolute best that people have stumbled across...
> How Many Songs From These Forgotten Noughties Bands Can You Remember?
Justin Bieber - 'Sorry'
Thank god for Genius annotations on Spotify, I would've had no idea what that song was about pic.twitter.com/qXgGtpoEHx

— Christian Tierney (@_CTierney) March 26, 2018
50 Cent - 'Candy Shop'
Thanks for clarifying lads @Genius @Spotify @50cent @HHman94 #MusicBiz #Art #Tech #Humor #BIZBoost pic.twitter.com/Il8vesmVjE

— Mohd. Imran (乇мմ™) (@TheSoulfulEMU) April 9, 2018
The Weather Girls - 'It's Raining Men'
@Spotify I want to one day be as hilarious as your @Genius writers. pic.twitter.com/1wXDFfaarW

— Claire Gould (@clairegould00) April 8, 2018
Ginuwine - 'Pony'
There's a whole moment on the Genius descriptions on Spotify and they left out the GOAT. pic.twitter.com/TCRxKgBh2o

— 1L Gunner (@Ali_stopit) April 8, 2018
The Weeknd - 'Party Monster'
This is one of the dumbest lyric genius things I've seen on Spotify. pic.twitter.com/YSVbWnUAL5

— (@PaidPistol) February 6, 2018
Alessia Cara - 'I'm Yours'
what are these Genius annotations???? I'm screaming pic.twitter.com/IwwrmbLpk4

— julia reinstein (@juliareinstein) April 4, 2018
Taylor Swift - 'We Are Never Ever Getting Back Together'
Thanks for the info @Genius @Spotify @taylorswift13 pic.twitter.com/51rGyt211p

— thenewclassic (@getawayswift89) December 22, 2017
Fleetwood Mac - 'Dreams'
de Genius annotations for Fleetwood Mac- Dreaming i CRYYYY pic.twitter.com/sDFj595a6l

— koning der ballonnen en oneven cijfers (@BitchOfKitsch) March 5, 2018
Beyoncé - 'Crazy In Love'
Hats off to Spotify and Genius. When they provide lyrics, they are thorough. pic.twitter.com/wthPPZko1o

— Oscar Tollast (@OscarTollast) March 11, 2018
Rihanna, Kanye West, Paul McCartney - 'Four Five Seconds'
The Behind the Lyrics feature on Spotify is underrated pic.twitter.com/iveKfuNMxF

— Megh Patel (@mpat619) March 29, 2018
Desiigner - 'Panda'
Thanks for the lyrics Spotify pic.twitter.com/O1O9hTCSj4

— Brian Paner (@bozasm) March 28, 2018
Nick Jonas - 'Bom Bidi Bom'
My favorite annotation by @Spotify @Genius pic.twitter.com/k8RcE8cCeF

— Pedro Daniel Torres (@pedro_daniel94) April 8, 2018
Outkast - 'Hey Ya'
@Spotify genius keeping me right *puts down Polaroid picture* #genius pic.twitter.com/P8HQ0L2Qlq

— lucy dyke (@lucyjux) April 8, 2018
Camila Cabello - 'Havana'
I have doubts, Spotify lyrics genius pic.twitter.com/YvlQSbUsni

— Carolyn Klarecki (@carolynklarecki) March 27, 2018
Diana Ross - 'Endless Love'
Genius' Fact Track on Spotify is a point-blank kween pic.twitter.com/LHvylmUAW1

— j (@turquatta) March 20, 2018
Taylor Swift - '...Ready For It'
Seems kinda cruel and unnecessary @Genius @Spotify pic.twitter.com/iHqBzAZl1b

— The Levittator (@levittator31) January 2, 2018
> Download Our Fancy New App For Loads More Music Fun!
Whilst you're here, check out what happened when Camila Cabello joined us for a game of 'Finish The Lyric'...