BTS 'Love Yourself Tour' In London: Tickets, Dates And Latest Updates And News
11 September 2018, 11:52 | Updated: 12 September 2018, 14:15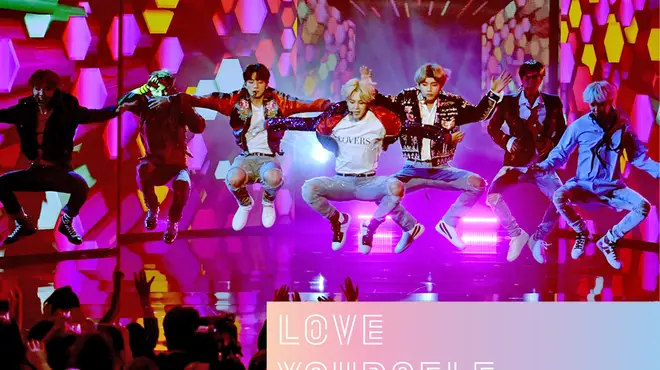 BTS will play two incredible shows in London this October at the O2 and we've got all the latest ticket news and more!
When it comes to K-pop, BTS are one of the biggest names around and the guys are coming to London to perform two HUGE live shows, at the O2, and we're so hyped for them to get here!
> POLL: Which UK Pop Artist Would You LOVE To Collaborate With BTS?
So here's everything you need to know about these upcoming BTS shows, including tickets details, support acts and loads more...
Where are BTS performing in London?
When BTS head over to the UK in October, they'll be playing a pair of show's in London at The O2. It'll be the first time ever that BTS have performed at the iconic London venue, which has a capacity of 20,000.
When are BTS performing in London?
The K-pop group are taking over London's O2 on Tuesday 9th and Wednesday 10th October 2018. The show's are part of BTS' Love Yourself World Tour and will be their first in London.
Can I still get tickets to see BTS in London?
Unfortunately tickets for both of BTS' London shows have sold out - but it's not just UK fans have haven proven themselves as K-pop lovers. BTS' World Tour is also heading to the U.S nd all of their American shows, plus shows in Berlin, Amsterdam and Paris all sold out too.
What are BTS' 2018 Love Yourself World Tour Dates?
25th & 26th August - Seoul, South Korea
5th, 6th, 8th, & 9th September - Los Angeles, USA
12th September - Oakland, USA
15th & 16th September - Fort Worth, USA
20th, 22nd & 23rd September - Hamilton, Canada
28th & 29th September - Newark, USA
2nd & 3rd October - Chicago, USA
9th & 10th October - London, UK
13th October - Amsterdam, Netherlands
16th & 17th October - Berlin, Germany
19th & 20th October - Paris, France
Who is supporting BTS on tour?
When Jin, Suga, J-Hope, RM, Jimin, V and Jungkook venture out on tour, they'll be travelling alone. BTS don't have a support act on their tour, but that hasn't stopped fans from considering who would be a good opening act for the lads.
Fellow K-pop stars Red Velvet, Eric Nam and Day6 have all been suggested by fans, whilst Troye Sivan was also a popular choice.
Will BTS perform solo songs at their London shows?
Based on footage from BTS' shows in America, each member of the group will perform solo tracks. Jungkook has been perfoming 'Euphoria', V has been performing 'Sigularity' and Jimin has been performing 'Serendipity', amogst others.
Which songs will BTS play on their Love Yourself World Tour in London?
According to fans, the set list for BTS' Love Yourself tour has been full of fan favourite tunes.
New favourite IDOL obviously makes the list, as doplenty of other classics, so check out the full list below...
Seesaw (YG)
Love (RM)
Just Dance (JH)
Pied Pieper
Best Of Me
IDOL
I'm Fine
Save Me
Mic Drop
Fake Love
DNA
GO GO
Anpanman
Airplane pt.2
Euphoria (JK)
Serendipity (JM)
Epiphany (JN)
Singularity (V)
Magic Shop
So What
The Truth Untold
> Download Our Free App For All The Latest Music News!