Harry Styles Chats In Italian To Locals In Behind The Scenes 'Golden' Video
4 December 2020, 12:34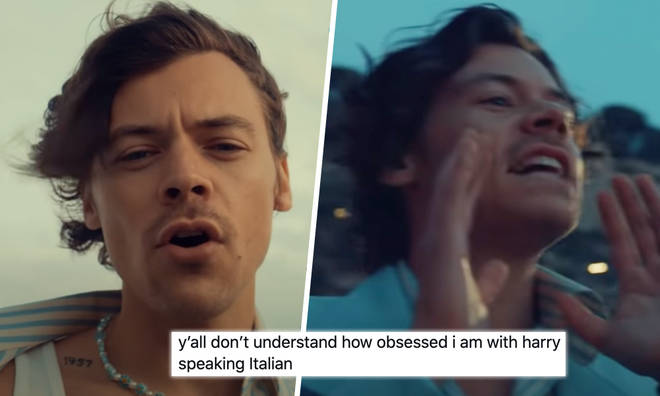 Harry Styles has released a behind the scenes video for 'Golden' and him speaking Italian to locals is just one more reason we're obsessed with him.
Harry Styles has dropped the behind the scenes video for 'Golden' and aside from getting to see some of the incredible looks that didn't make the video- fans are losing it at the singer speaking Italian to the locals.
Reactions To Harry Styles's Sassy Instagram Clap Back Have Been Priceless
As the 26-year-old wraps filming at dusk on the Amalfi coast, the ever-polite pop star wanted to bid farewell to the locals who had been watching on, wide-eyed that the superstar was casually filming on their street.
He shouts: "Ciao regazze" to them, which translates into 'bye guys!' and fans, especially Italian ones, are absolutely losing it at his extremely smooth approach to speaking the language.
One fan gushed: "y'all don't understand how obsessed i am with harry speaking Italian."
Another agreed: "harry styles screaming ciao ragazze italian in golden is something so close to my heart."
This person cut the nonsense and said what we're all thinking: "The way Harry speaking Italian is the sexiest thing ever."
Agreed.
Some are even demanding the singer be given citizenship to the country after he's spend a whole lot of time over there this year and has clearly been getting very stuck in to the culture, language and vibe of the place!
Elsewhere in the BTS video, Harry sips on an espresso, pinky out, in an eccentric outfit that never made the cut, leaving everyone wondering how they can access the full version of these unseen clips.
The former One Direction singer also drove a speedboat, which also didn't feature in the video and rocked some seriously funky glasses he also decided weren't going to make in, but we kind of wish they did.
The behind the scenes clip has already been viewed over 2.5 million times, proving what an insatiable appetite fans have for Harry's content- and the video seriously didn't disappoint.
Ciao regazze!
> Download Our App For All The Latest Harry Styles News