Kylie Jenner Tries Cereal With Milk For The First Time. Twitter Roasts Her.
19 September 2018, 11:26 | Updated: 19 September 2018, 12:01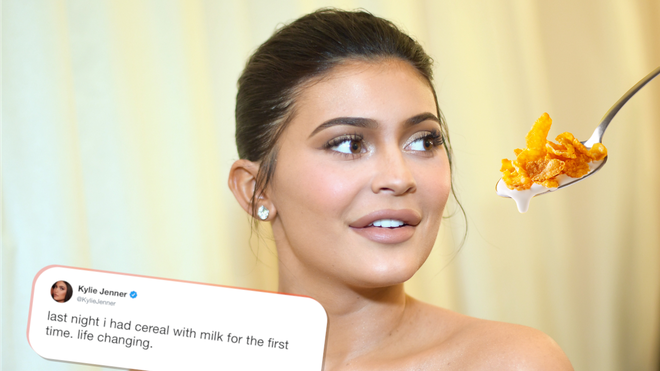 Kylie Jenner's life was "changed" when she discovered milk goes well with cereal. Who knew?! Well, Twitter did, apparently...
Kylie Jenner usually has diamonds on caviar on steak for breakfast, so it comes as no surprise that she doesn't often enjoy a nice bowl of Coco Pops.
The Keeping Up With The Kardashians star shared her discovery on Twitter, saying "last night i had cereal with milk for the first time. life changing." And Twitter did us good, and didn't let this go unnoticed.
> Nicki Minaj Goes In On Kylie Jenner After Not Getting The No. 1 Album Spot
Kylie's 25.5 million followers were shocked to see that someone - at the age of 21 years old - had never had cereal with milk, and then decided to dedicate nine posts on Twitter about the situation.
Of course, the people of Twitter - the home of ridiculous comebacks and impeccable reactions - took to their keyboards and responded aptly to Kylie's groundbreaking discovery.
Thank you, Kylie, for informing us about this discovery. Now, if you could do some investigative journalism into seeing if hot water goes well in a tea, that would be great.
> We've Got The Latest News And Gossip From The Kardashians Over On Our App!