Barbie's World Premiere In Pictures: The Dreamiest Pink Carpet Looks
10 July 2023, 15:15 | Updated: 19 July 2023, 14:51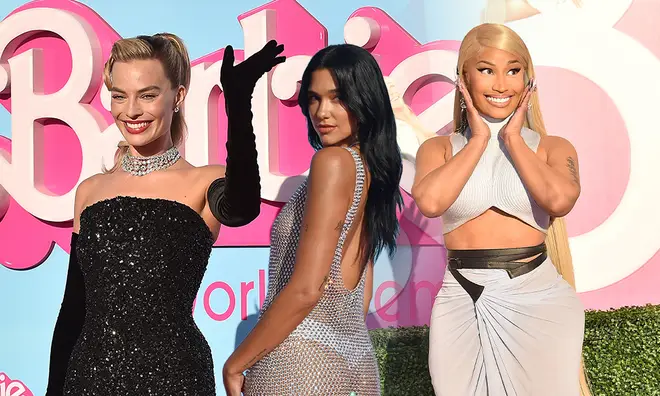 We've put together the ultimate lookbook to scroll through the fashion serves at the Barbie premiere in Los Angeles.
Following weeks of the Barbie movie's stars travelling the world for the film's press tour, the pink carpet was finally rolled out to host the star-studded cast at the world premiere in Los Angeles.
As we're just weeks away from the movie of the summer dropping, Barbiecore has quite literally taken over, and cast members Margot Robbie and Ryan Gosling are just some of the stars who have been honouring their Barbie and Ken roles on the red carpet.
Margot Robbie's Barbie Outfits & Dreamiest Barbiecore Looks That Have Us In A Chokehold
Barbie's Malibu Dream House Is Real And You Can Rent It Out
The LA premiere was undoubtedly the icing on the cake of all premieres so far as not only the actors in the flick - but artists featured on the movie's soundtrack - attended the event over the weekend.
Each look was as jaw-dropping as the last with key Barbie couture 'fits to dreamland-inspired serves.
Take a look at all of the pink carpet goodness from Margot & Ryan to Dua Lipa, Nicki Minaj, Billie Eilish, Issa Rae and many more…
The movie's Barbie & Ken took centre-stage at the world premiere

Margot Robbie and Ryan Gosling at the Barbie premiere.

Picture: Alamy

Dua Lipa honoured her mermaid Barbie character in a glistening silver sheer gown

Dua Lipa at the Barbie premiere.

Picture: Alamy

America Ferrera walked the pink carpet in a soft pink satin co-ord

America Ferrera at the Barbie premiere.

Picture: Alamy

President Barbie Issa Rae embraced Barbiecore with a hot pink cut-out dress

Issa Rae at the Barbie premiere.

Picture: Alamy

Channelling his inner Ken, Michael Cera looked dapper in a salmon pink suit

Michael Cera at the Barbie premiere.

Picture: Alamy

'Barbie' director Greta Gerwig oozed doll couture in a hot pink ensemble

Greta Gerwig at the Barbie premiere.

Picture: Alamy

Nicki Minaj stunned at the Barbie world premiere to celebrate her hit soundtrack bop 'Barbie World'

Nicki Minaj at the Barbie premiere.

Picture: Alamy

After announcing they were on the soundtrack, siblings and collaborators Finneas & Billie Eilish rocked their Barbie-inspired 'fits at the premiere

Finneas and Billie Eilish at the Barbie premiere.

Picture: Alamy

Ken #2 Simu Liu blew everyone away with his pale blue 'fit which was *so* Ken

Simu Liu at the Barbie premiere.

Picture: Alamy

Barbie girl Margot Robbie paid homage to the 1940s 'Solo in the Spotlight' Barbie with her black sparkly ensemble

Margot Robbie at the Barbie premiere.

Picture: Alamy

Gymnast Barbie Kate McKinnon sported a two-piece oozing Barbiecore

Kate McKinnon at the Barbie premiere.

Picture: Alamy

Ryan Gosling showcased his 'Ken-ergy' in a pink suit for the premiere of his new movie

Ryan Gosling at the Barbie premiere.

Picture: Alamy

Gal Gadot had heads turning in her striped mini-dress

Gal Gadot at the Barbie premiere.

Picture: Alamy

Karol G was dressed in pink from head to toe at the Los Angeles premiere

Karol G at the Barbie premiere.

Picture: Alamy
The 'Ken-cyclopedia' with Margot Robbie & Ryan Gosling 🤣 | Barbie Movie | Capital
> Here Are All The Ways You Can Listen To Capital