23 MUST-SEE Vines From NIGHT ONE Of The Jingle Bell Ball
7 December 2014, 10:05 | Updated: 30 March 2016, 13:50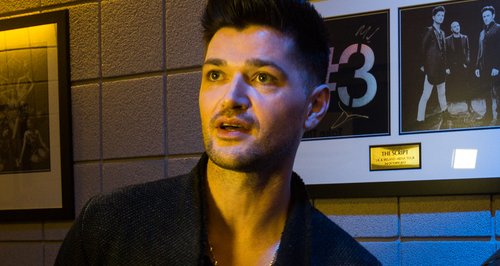 We couldn't have hoped for a better NIGHT ONE to the Jingle Bell Ball with Morrisons than we had on Saturday!
9 of music's hottest acts including Take That, OneRepublic and Union J took to the stage here at London's O2 Arena for an incredible day of live music.
As always we gave you guys at home exclusive AAA access including a whole bunch of #CapitalJBB Vines. Here's a selection of our favourite…
1. What an incredible finish to night one of the #CapitalJBB!
2. The old school moves were back and NOBODY was complaining!
3. All good things come in threes right?
4. Take That perform their first arena show as a three-piece EXCLUSIVELY for Capital.
5. FACT: Ryan Tedder from One Republic squeals beautifully.
6. "As long as we're together, it's all good!" You're smashing it Union J...
7. That bum though #cheeky...
8. Olly Olly Olly! Let's see some more of the hip shaking please...
9. Ella Henderson's voice is almost *too* good
10. Danny from The Script is such a good front man isn't he?!
11. Someone's enjoying their first concert #CapitalJBB
12. The Script sounding AMAZING at #CapitalJBB
13. More footage of The Script wowing the #CapitalJBB crowd.
14. *SCREAMS* The Vamps performing Wild Heart... and the crowd LOVING it! #natch
15. OMG! The Vamps have well and truly opened night one of the #CapitalJBB (check out Brad flapping his arms) PHWOAR…
16. Here he is! Capital's Marvin Humes warms up our 16,000-strong crowd.
17. Not long till Marvin Humes gets the O2 arena warmed up - here are some VERY excited fans!
18. Olly looking dapper as he catches up with the media back stage.
19. Ella Henderson arrives on the red carpet looking FIERCE!
20. OMG! The Script arrive on the red carpet.
21. Top marks for your cracker-pulling skills Danny!
22. The moment the arena opened... *rushing to seats*
23. The red carpet awaits!
You may also like...