Shawn Mendes' Fan Surprised Him With Harry Styles Merch & It Made His Day
25 July 2018, 15:54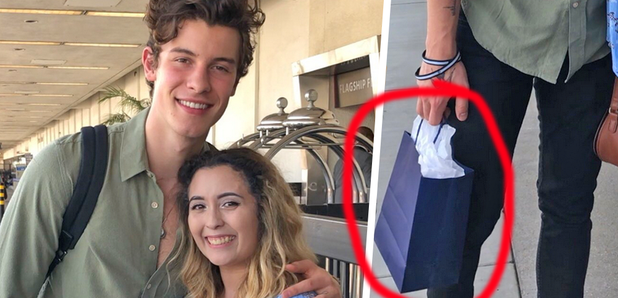 Shawn Mendes was given a Harry Styles gift by a fan and he couldn't have been happier!
When you're a modern day icon like Shawn Mendes, people might think that you've got it all. Turns out that's definitely not the case, as one fan proved when she gifted the 'In My Blood' star some new Harry Styles merch recently.
After being given the t shirt, Shawn jumped into the fan's DMs on Twitter and thanked her personally, claiming he'd "wanted one so bad".
> Shawn Mendes' Fans Have Organised A Heartwarming Gift For His 20th Birthday
The fan in question is @foundlovestyles and she deserves the biggest thank you for making Mr Mendes' day!
last photos of your favorite leo's as teenagers pic.twitter.com/oyhhkqJ5fh

— val 5 (@foundlovestyles) July 24, 2018
cynthia's water bottle and my shirt in. HIS. HANDS. our minds we're so powerful SEND TWEET pic.twitter.com/a11OtP5oRw

— val 5 (@foundlovestyles) July 24, 2018
gave shawn harrys tpwk shirt HOPEFULLY he wears it one day

— val 5 (@foundlovestyles) July 24, 2018
As she posted the pictures of her now legendary meeting with Shawn, he can clearly be seen holding the bag containing the Harry Styles merch and @foundlovestyles also shared a screenshot of his Twitter DM too.
Shawn's message read, 'Hey thank you for the shirt! I wanted one so bad! Xx' and now all we can picture is Shawn Mendes wearing a Harry Styles t shirt whilst making new music in the studio.
we're going down streaks pic.twitter.com/sLjH640lso

— val 5 (@foundlovestyles) July 24, 2018
Actually, if we could get a picture of that please ASAP Shawn, that'd be great!
Shawn was recently spotted at the final show on Harry Styles' debut world tour and from the looks of things he was having the time of his life...
Is there really any better way to start your week than a video of @ShawnMendes dancing to @Harry_Styles? The answer is no btw pic.twitter.com/SP405eWzPH

— Capital (@CapitalOfficial) July 16, 2018
Can you just imagine if we ever got a collab between these two? Game over.
> Download Our Free App For All The Latest Shawn Mendes News!