Shawn Mendes Fans Upset After 'Stressed' Airport Video Surfaces
23 October 2018, 15:59 | Updated: 23 October 2018, 16:04
Shawn Mendes fans shared their disappointment after a video showed a group asking him for photos despite him being visibly stressed.
Shawn Mendes has a great relationship with his fans - recently he even admitted that he pretends not to know stan Twitter slang just to "bug" them - but a video has emerged which shows Shawn in an uncomfortable situation with fans asking him for pictures.
> A Fan Got A Tattoo Of A Shawn Mendes Voice Memo He Recorded For Her
The video was taken in an airport and Shawn states that he needs to go and is stressed, but clearly not wanting to disappoint the excited fans, he stops to take photos with them, although when he attempts to leave he's bombareded by another wave of fans.
for people who weren't there yesterday and are very confused on what happened.... just take a look at shawns facial expressions and his words and overall how stressed and anxious he was getting.@ShawnMendes pic.twitter.com/AkXjzD4QsS

— nicole✨TRYNA GET SHAWNS FOLLOW (@nicole_mdr_) October 23, 2018
In the video above, Shawn tells fans, "The car's gonna leave if I don't take a photo now". When he spots a familiar face, Shawn explains, "I'm a little stressed" before declining an offer of help to get through the crowd.
After attempting to get to his car but being asked for more pictures and hugs, Shawn issues a firm statement saying, "You guys aren't listening. I'm not gonna be able to get home..."
The video then cuts out, but after it was uploaded to Twitter, many other fans spoke out about how important it is to make sure Shawn has the space he needs and that his kindness and love for his fans shouldn't be taken advantage of.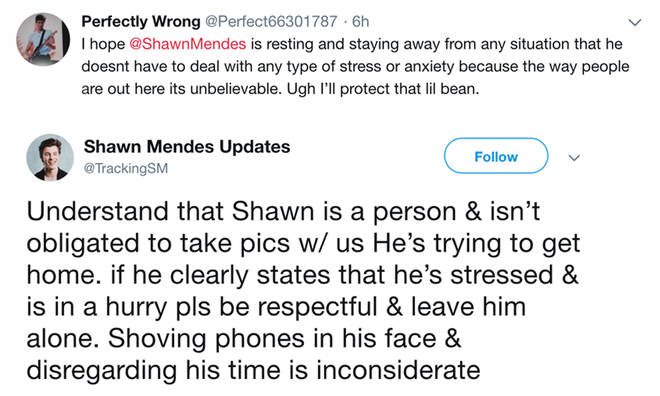 Shawn has previously spoken out about suffering from anxiety and even revealed his song 'In My Blood' is a reference to it, so situations like this could well be dificult to deal with for the Toronto lad.
On a recent flight which Shawn was on, this girl's dad wrote a note on a napkin which he gave to one of Shawn's team asking for an autograph for his daughter and of course the 'Lost In Japan' star obliged, proving that he does have time for fans.
Shawn's kindness is an absolute blessing and hopefully it won't be diminished by his wishes not being listened to. It's easy to get carried away, but it's also important to remember that our faves are people too.
> Want Tickets To Capital's Jingle Bell Ball Before Anyone Else? Download Our App Now To Access Pre-Sale!