Rita Ora Feat. Chris Brown - 'Body On Me'
18 August 2015, 16:41 | Updated: 18 August 2015, 16:48
Rita and Chris have FINALLY dropped their hot new video!
Since hearing the track earlier this month, we were already #OBSESSED with Rita Ora's brand new song and team up with Chris Brown on 'Body On Me' - and the music video is going to be SERIOUSLY sexy too.
Speaking to Capital's Dave Berry and Lisa Snowdon, Rita revealed, "It's probably one of the most intimate videos I've ever done, but it's really exciting."
Rita and Chris recorded the video for 'Body On Me' in LA, directed by Colin Tilley, who has Nicki Minaj's 'Anaconda' video among his credits.
Chris also told Max, "I've known Rita for about almost 5 years now so we've never quite had the opportunity to do a record. We always talked about it in passing, and we saw each other, you know we're friends and we've got all the same friends.
"I was in the studio and she was in the studio and she was like 'Hey I got this idea, let me know if you like it' and I was like that's dope, let's do it. The track is musical, sexual, intense and intimate, its' something to give you chills but also shake the crowd up a little bit."
Describing the track, Chris said we can expect some nudity! "You know, there was some grown stuff. I had to put on my sexy face for two minutes."
The promo was shot on a closed set and sees Rita and Chris as two neighbours living in the same apartment block who get a little steamy - and judging by the first image the duo released, it's going to be hot, hot, HOT!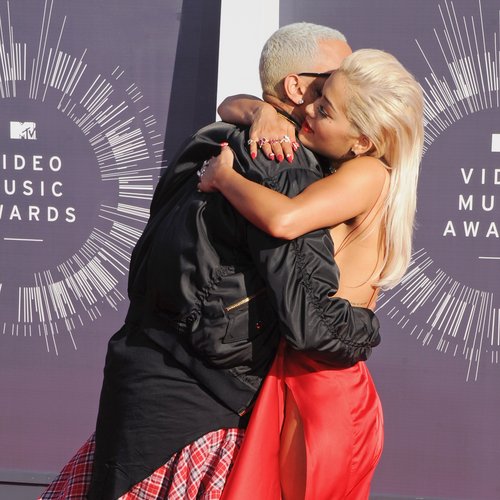 When Rita heard Chris' comments about the closed set antics, she set the record straight with Max. She told Capital, "No, it's so funny, he's obviously playing you on. It was a very professional video shoot but it's just hot as a video. It's a very - how do I explain it - 'put together' video."