It Was ALL Party (And No BS) For Rita Ora's Summertime Ball 2014 Perfomance
21 June 2014, 18:51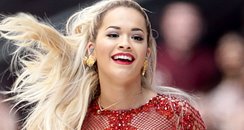 Rita Ora smashed it at the biggest, ball… EVER with her amazing medley of 'RIP' and 'How We Do' - definite girl crush material!
We heart Rita Ora, and the #RObots screamed their heads off when the red-lipsticked wonder took the stage at Wembley Stadium.
It's been two years since Rita last performed at the #CapitalSTB but it was like she never left - 80,000 people to perform for? No biggie!
I wanna hear all of you sing Wembley," Rita shouted out to the crowd, before kicking into her first song.
Rita performed a killer mash up of 'RIP' and 'Party & BS', emerging onto the stage in a red riding hood style cloak to screams from the crowd.
Rita ora is beyond beautiful #CapitalSTB

— teddsy (@rayann2801) June 21, 2014
summer time ball!! rita ora is amazeballs!!! #capitalstb

— Ashleigh Murray (@ashleighm2707) June 21, 2014
She then ripped off her cloak to reveal a lacy red playsuit outfit with a high ponytail hairstyle, with the crowd singing 'How We Do' back to her!
Backed by a troupe of monochrome dressed dancers, it was clear Rita was having the time of her LIFE out there pulling some serious shapes and sounding PITCH PERFECT throughout. Bravo Rita, we salute you!
"Capital thank you for having me, Wembley I love you!" Rita added before leaving the stage. "Have a good day I love you bye bye."
Having an amazing time at the Summertime Ball with Bernie, Rita Ora was stunning her singing wasn't bad either ;)! #capitalofficial

— Danny Moore (@moordani) June 21, 2014
RITA ORA HAD THE ARIANA GRANDE HAIRSTYLE OMG #CapitalSTB

— becca (@remixbiebers) June 21, 2014
The UK star finished off her set with 'I Will Never Let You Down' - and that she certainly didn't as she powered through the Vodafone Big Top 40 chart smash.
Rita Ora's set list was:
'RIP'/'How We Do' Medley
'I Will Never Let You Down'
Rita was pretty excited before the show - and her #RObots could barely contain themselves in preparation for the big show.
Rita tweeted her excitement and some sneaky previews ahead of her performance:
Plus she gave us ALL a sneak peak at her outfit for the day before the BIG show:
The #RitaBots were over the moon when they found our Rita would be performing at the ball:
@CapitalOfficial @RitaOra IM SO EXCITED

— STB TODAY WHAT (@HORANFTIRWlN) May 8, 2014
@CapitalOfficial @RitaOra BEST ACT YET

— Louis Bruce (@LouisCBruce) May 8, 2014
@RitaOra can't believe Ill see you at #summertimeball2014 :) see you there.

— sandra (@a_a_official) June 19, 2014