"Leave Me Out": Rita Ora Wants To Remake 'Lady Marmalade' But Iggy Azalea Isn't Keen
13 October 2015, 12:18 | Updated: 6 December 2018, 10:23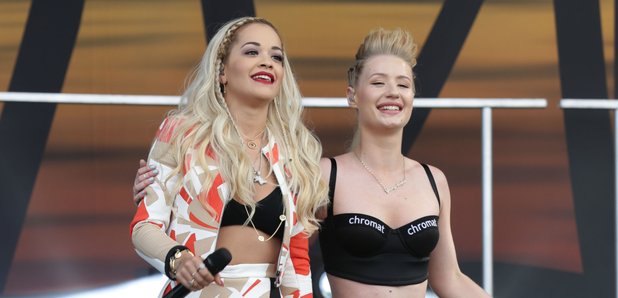 Rita wants to round up her celeb friends for a 'Lady Marmalade'-esque lady anthem but one of her pals definitely doesn't want to be involved…
Remember the Christina Aguilera, Lil' Kim, Mya and Pink realness we got back in 2001 when these fiery ladies released 'Lady Marmalade' – well, Rita Ora is keen to bring that back 15 years later.
Rita wants to round up all her celeb mates to create another pop power anthem featuring a host of today's hottest stars – but one of them is adamant she doesn't want to be involved.
The 'Poison' star told The Sun, "It's always been my goal to create another 'Lady Marmalade'. I'm trying to round up the troops - I think it would be me, Miley [Cyrus], Charli XCX - she'd be fun - and Iggy [Azalea]."
While that sounds pretty freaking epic, it looks like Rita would have to find a new fourth member as Iggy Azalea wouldn't be keen to pay homage to such a classic collaboration.
When a fan asked Iggy whether she would like to be involved, Iggy replied that she had nothing to do with the idea and would like to be left out of it.
@Diamansus that was an iconic moment in pop history and should be left alone.

— IGGY AZALEA (@IGGYAZALEA) October 12, 2015
Please leave me out of the whole Lady Marmalade conversation. I have nothing to do with ritas ideas & agree it should be left alone. Thanks

— IGGY AZALEA (@IGGYAZALEA) October 12, 2015
Rita and Iggy have previously worked together on 'Black Widow', so she was an obvious choice for a remake of one of the 'Body On Me' star's favourite covers.
We still want this to happen – but who could fill Iggy's place? Answers on a postcard, people.