Rita Ora Presented With Glamour Award By Best Friend And "Wifey" Cara Delevingne - Audio
5 June 2013, 10:29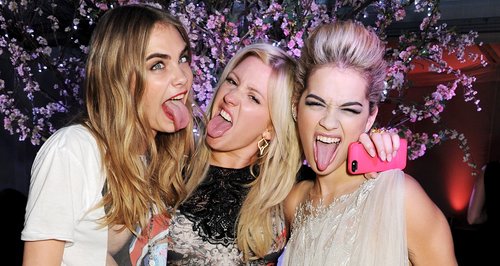 The 'R.I.P.' singer also spoke to Capital FM at the event about what winning her award means.
Rita Ora was presented with a gong at the Glamour Woman Of The Year Awards 2013 last night (4th June) by her best friend, super model Cara Delevingne.
The 'Hot Right Now' wore a white sheer dress for the event, held in central London on Tuesday evening, and was called up to the stage by Burberry model Cara to pick up her gong for Best Solo Artist.
The award comes after a huge first year for the UK singer-songwriter after the release of her debut album 'ORA' and hit singles like 'R.I.P.' and 'Radioactive'.
"So proud ritaora, well done!!!" Cara tweeted after the event, while Rita simply posted: "Speech moment. Never was good at that lol. But it felt amazing!!!"
Check out a picture of Rita Ora planting a kiss on her Glamour Award below (Credit: PA):
After the event Rita and Cara were spotted hanging out with some of the other big names at the Glamour Awards, including Ellie Goulding and fellow award winner Jessie J.
Cara Delevingne was the star who presented Rita with her award at the prestigious fashion ceremony (Credit: PA):
"You know my team had kept this quiet from me," Rita told Capital FM at the event. "Glamour gave me my first kind of UK cover, so I have a special place for them."
Rita Ora recently unveiled thee music video for 'Face Melt' as her new single, featuring a guest appearance in the video from her "wifey" Cara Delevingne, and is now starting work on her second studio album.
Listen to Rita Ora talking to Capital's showbiz reporter Kevin Hughes about her win below:
Rita Ora on winning a gong at the Glamour Awards 2013...