Rita Ora Says She And Boyfriend Calvin Harris Made Four Songs For Her New Album
12 May 2014, 09:54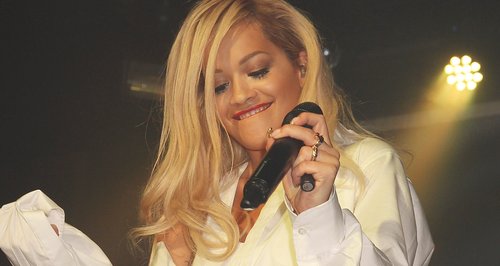 The 'R.I.P.' singer praises Calvin after getting to write and record with him for her new record.
Rita Ora has revealed she and boyfriend Calvin Harris have recored four songs together in total for her new album, and says teaming up with the 'Summer' DJ was the best decision she made for her new music.
The 'I Will Never Let You Down' star, who's new single hit number one on the Vodafone Big Top 40 yesterday (11th May), has also promised a vibe similar to Whitney Houston's early material from her second album.
"Remember that vibe that Whitney gave you with 'I Wanna Dance With Somebody?' It's kind of like you release that energy almost," Rita revealed to MTV News. "It's that eighties synth mix.
"I'm in a great place at the moment," she explained. "I'm not trying to make any tear-jerking anthems. I'm not in a bad place."
Rita went on to open up about recording with her man Calvin, who wrote and produced her latest single 'I Will Never Let You Down'.
"We actually did four songs together. We didn't plan it. It's not like a Cher and Sonny situation," Rita added. "We were both kind of talking about music and we just happened to hum together and a song came out, and we ended up doing four tracks on the record.
"It's probably the best decision I made working with him."
You may also like: