Little Mix On Simon Cowell's Involvement: "He Trusts Us To Do Everything"
17 January 2014, 10:24 | Updated: 17 January 2014, 10:25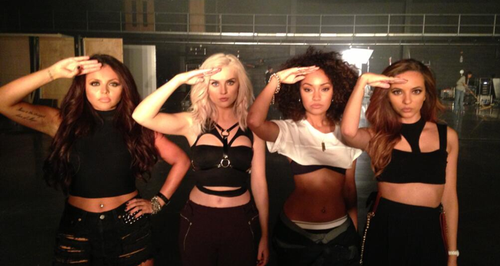 The 'Move' four-piece say it's important for them to be fully involved in creating their own sound and style.
Little Mix have revealed that Syco boss Simon Cowell trusts them and their team to create "something good" with their music and doesn't need to personally oversee everything they do.
The 'DNA' four-piece say they love getting to "control everything" about their own sound and write their own music.
"People ask us, 'Do you see Simon Cowell a lot?' and whether he has much of an input in everything," Perrie revealed to Fault magazine. "To be honest, he oversees everything and he really knows his craft, he's done it for a long time.
"But he trusts us to do everything and our label trusts us in the studio," she explained. "It's quite nice to know that everyone in our team has trust in us to pull out something good, with our fashion, with our hair and make-up.
"They never tell us what we have to do or the songs we have to write," Perrie added. "We control everything, which is important to us."
"We write our own music, we're involved in absolutely everything," fellow Little Mix star Leigh-Anne Pinnock explained. "Everything comes from us, it's as raw as it gets.
Little Mix are set to launch their album 'Salute' out in the US next month.
Little Mix's new cover of 'Word Up' is available to pre-order now and will be released on 16th March.