Little Mix's 'Salute' UK Tour: 14 Best Fan Memories
10 June 2014, 14:41 | Updated: 10 June 2014, 16:44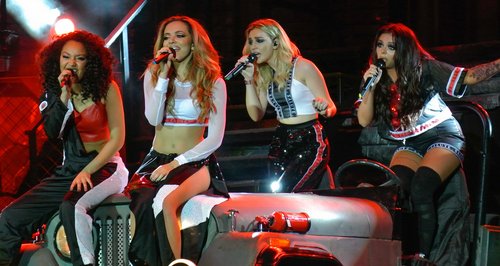 Fresh from the final UK tour date on the girls' 'Salute' tour, check out the best pictures, tweets and videos from the fans about the incredible tour show.
Little Mix brought the UK tour dates on their 'Salute' tour to a close last night (9th June) out in Belfast and it was an emotional affair, with fans bringing the girls close to tears after the curtain fell.
#Mixers from across the Internet have been tweeting and sharing their snaps and videos for the past few hours as they look back on the 'Salute' tour and the memories they have of Leigh-Anne, Perrie, Jesy and Jade hitting that stage.
Check out 14 highlights from the final night of the 'Salute' UK tour, including some messages from the girls themselves!
Perrie may have a wedding to plan, but that doesn't mean she won't miss performing every night with her bandmates!
Tomorrow's the last show of our #SaluteTour :'( Some amazing memories with the girls and all of you! See you tonight Dublin Perrie <3

— Little Mix (@LittleMix) June 8, 2014
Clearly Perrie's fiancé, One Direction's Zayn Malik, didn't want to miss out on the girls' big night!
Zayn was in Belfast last night with Perrie for her final Salute tour show <3 <3 <3 #Haidy_Payne http://t.co/HjJxgmgQKS

— fans of 1D (@fansofone1D) June 10, 2014
The crowd goes wild (and who could blame them?!) as the band descend onto the stage like some sort of G.I Janes…
Clearly it was an emotional night, as one fan spotted Jesy shedding a tear at the final UK show :(
Jesy crying tonight while the girls were hugging her #SaluteTour pic.twitter.com/NGsgjG3tVt

— Olivia (@ItsOliviaGirvin) June 10, 2014
The ladies made sure to commemorate the end of their tour with an adorable Insta-snap…
WE COULDN'T AGREE MORE.
Can't believe the salute tour uk and Ireland is over already. Let's go back to their first show in Birmingham pic.twitter.com/uuedgYGbDY

— Little Mix Updates (@LMUSAUpdates) June 10, 2014
We're sure @believeleigh speaks for ALL the Mixers out there who don't want the Salute tour to end!
I want to relive the salute tour over again and again

— phoebe (@believeleigh) June 10, 2014
Don't cry because it's over, babes, smile because it happened!! (But we totally get what you mean!)
Didn't the Salute Tour just start???? HOW IS IT OVER ALREADY pic.twitter.com/iAvnoJrY8d

— brianna (@jadesytowers) June 10, 2014
This fan thinks Little Mix's tour blows everyone else's out of the water. Do you agree?
the salute tour was so amazing, it slayed everyone else's tours

— (@jades_braces) June 10, 2014
The petition for Little Mix to play at least four shows a day for the rest of eternity starts NOW!
can we all agree that #salutetour literally lasted a minute like what already

— cory's №1 (@lukeyswift) June 10, 2014
Awww, a lovely tweet from a very proud Mixer!
Little Mix have grown so much! And the Salute Tour has definitely showed how strong and womanly they are! -Hal pic.twitter.com/4EwEwTEwKk

— Little Mix Updates (@iUpdateMixers) June 10, 2014
This girl has the right idea! We're already way too excited for what's next…
Guys the Salute Tour was amazing but can you imagine the next one I choose the right band. I just need to meet them now.

— Deborah (@LilMixer91) June 10, 2014
That's the spirit! Little Mix have still got the whole of America to take over!!
UK leg of the salute tour is done :( but ayyyye amurica pic.twitter.com/KDYvFMXqp8

— sema (@pictionaarry) June 10, 2014
And after the show, there's the afterparty! The foursome looked incredible as they celebrated the end of their tour. Our invite must have gotten lost in the post…
You may also like: