'Fans' Claim Perrie Edwards' Instagram Pics Are Photoshopped After Questioning The Size Of Her Bum
22 June 2017, 15:19 | Updated: 22 June 2017, 15:32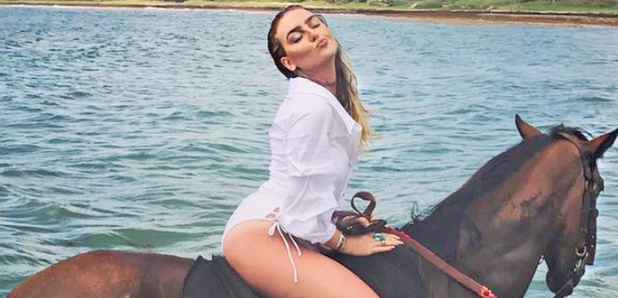 Really though?
Little Mix have been performing shows all over the place this year following the release of their incredible 'Glory Days' album, but now it's time for the ladies to relax and enjoy a bit of the summer.
It just so happens that the Premier League football season has also ended for the summer too, so Perrie Edwards and footy star boyfriend Alex Oxlade-Chamberlain have jetted off to a paradise island to soak up some sun and enjoy a romantic getaway.
> Perrie Edwards Just Made Us Hella Jealous With Snaps From Her First Holiday With The Ox
Of course whilst they're out there, the pair have been posting a number of snaps to their Instagram proving that they're probably the most loved up celeb couple around rn.
However a couple of the pics that Perrie posted on her account have cause a bit of controversy amongst her followers...
The picture above was one of them and it has caused fans to accuse the Little Mix lady of editing her pics with Photoshop.
One follower simply wrote, 'Lol photoshopped', whilst others were a bit more creative with their responses. Another wrote 'no this not a Photoshop but the last post I think it is I mean even the color of her but is not the same I am not hating', before a third person wrote, 'Nice photo shop'.
But some fans were quick to jump to Pez's defence and one of our favourite clap backs was from shoutouttopez on Insta.
She wrote 'Right this isn't photoshopped it's her actual booty. So why don't you guys leave the girl alone. She always gets sh*t from you type of people. Also don't compare her to any of the Kardashians. She ain't fake or has loads of surgerys to get big lips or a boob job. It's her actual beauty and if you have problem take up with her parents as they made this gorgeous girl.'
Talk about nipping that accusation in the bud!
We're not convinced there's been any photoshopping at play here and think Perrie is just a total gorge. Sorry haters, but you'll have to try again another day.
To remind yourslef about how awesome these Little Mix ladies are, check out their performance of 'Power' from the #CapitalSTB...