Perrie Edwards' Scarf Upset A Lot Of People As She Supported Her BF At The Football
5 April 2018, 15:34 | Updated: 16 May 2018, 16:16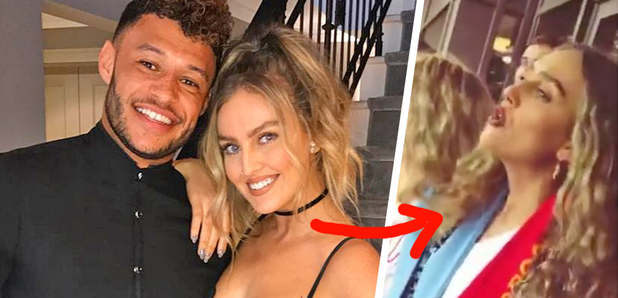 The Little Mix lady shared snaps of herself supporting her boyfriend Alex Oxlade Chamberlain as he played in the Champions League agains Manchester City, but her choice of attire angered a LOT of people!
Ever since Little Mix legend Perrie and The Ox first started dating, we've been shipping them endlessly. Every time they share a cute picture of themselves on Insta it makes us believe in love again - basically we think they're the best.
So when we saw Pez enjoying the game at Anfield recently, where Alex was playing for Liverpool against Manchester City in one of the biggest matches of the season, all we thought was 'what a supportive girlfriend!'.
> Jesy Nelson Has Finally Addressed The Little Mix Split Rumours

Sadly though there were a number of people who were furious with Perrie's choice of clothing at the game - in particular, her scarf.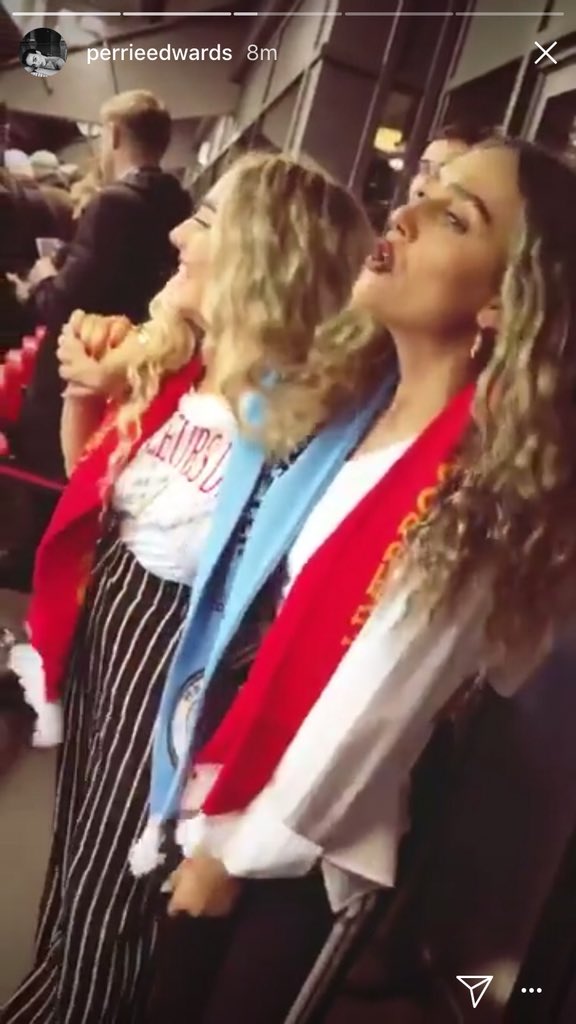 Perrie was singing Liverpool FC anthem 'You'll Never Walk Alone' whilst wearing a half & half scarf, which featured both Liverpool and Man City as well as the date of the match, but that upset a lot of the LFC fans who felt Pez should simply wear a Liverpool scarf to support her man.
Plenty of fans took to Twitter to share their anger about the whole thing and it's all left us just a little bit confused...
Only thing that annoyed me that half was finding out Perrie Edwards was wearing a half and half scarf!

— Tino Palmer (@Tino_LFC) April 4, 2018
Perrie's singing *that* song whilst wearing a half and half scarf. So, that's me done with Little Mix.

— Vicky (@VK1878) April 4, 2018
Perrie Edwards wore a half and half scarf the match tonight

She's dead to me now

— Rob Peters (@RobPeters_14) April 4, 2018
Perrie Edwards singing YNWA as if its a pop song w a half liverpool half man city scarf is what is wrong with this world

— Jenni (@jenniayr) April 5, 2018
Perrie Edwards wearing a half an half scarf last night.... Never has a girl gone from so high to so low in the history of man. Not even sure I like @LittleMix anymore. Totally ruined my weekend this!

— Ben Dalton (@benwafcdalton) April 5, 2018
The scarf that Perrie was wearing is sold outside the stadium ahead of matches and is a piece of memorabilia for fans to remember the specific game they attended.
Whilst Perrie is supporting Alex, who plays for Liverpool, her wearing a half and half scarf doesn't mean she's also supporting Man City and certainly doesn't make her any less of a supportive GF.
Fans jumped to her defence after the flurry of tweets started to emerge...
What tf have I just read... Perrie is getting slated into because she wore a half-half scarf at a football game. do people actually have a brain cell between them? WHO CARES. Did she cheers when Liverpool Scored? Yes. Would she of cheered if Man City scored? No.

— Little Mix (@perriekills_) April 5, 2018
Are Liverpool fans seriously angry at Perrie for wearing a half and half scarf? Wtf???

— Keks Bonbon (@keksbonbon) April 5, 2018
Some of the comments directed towards Perrie were appalling, so surely there should be more outrage at how people speak about one of pop music's strongest women rather than a scarf.
> Download Our Fancy New App For All The Latest Little Mix News!
Whilst you're here, check out what happened when we surprised Perrie with a Liverpool shirt last summer...